The meal in the second picture was called Grillhaxe which is pork knuckle. I got it at Martinsbrau, the nicest German restaurant I have eaten at. I may have annoyed or at least confused the waiter, because I didnít know it was mine when he first brought it out and he went around asking all the tables of people who ordered it. About half of the people here speak English well and I feel a little bad for not understanding German, but it has worked fine.
For most of the restaurants in Freiburg we sit and eat outside at tables on the street, which is nice because the weather is really great here. Iíve pretty much stayed in Freiburg everyday except for a trip to the Black Forest. I am on my way to Dresden on a night train tonight. Barack Obama was coincidentally in Dresden yesterday, but I donít think he still will be when we get there. Then Iím going to Nuremburg on Sunday. Hopefully I will get to do a lot more travelling and try some new food too.
Joel -- June 5, 2009

Pokemon macaroni, Trout Slayer Ale
Ty -- June 2, 2009
For a little bit I was mad because I can't find that parmesan cheese were you curl it out yourself anywhere. Everyone LOVED that, I don't know why they would stop making it. But I'm not mad about it anymore because a bag of regular ole shredded is just as good and I decided on my favorite shape of pasta: ziti, duh.
I hope someone else wants to eat kabobs for lunch tomorrow. Steak ones.
Ty -- May 29, 2009
I'm at the library and on the way over here I saw that in the spot where O'Connell's used to be - not where the tattoo place is now, the other place - there's going to be a Whistler's Burgers. What's that, I hope it's good. Also on the way over here someone said to me "where the apple mart at!" but we don't have an... apple mart.
Ty -- May 27, 2009
Last night, when I was asleep, I was walking to the grocery store and there was an old man walking a ways in front of me, walking very slowly so that I had to slow down my walking so that I wouldn't catch up with him. As slow as I walked I couldn't help but catch up with him, and when I did we talked to each other and he turned out to be younger than I thought. We got in a car and he got younger again and we went to the grocery store together, actually a vegetable barn outside of Dillons. Now the old man had become a lot younger, one of my friends, someone I know in real life, and there were very inexpensive turnips and sweet potatoes and mushrooms in the barn, all kinds of mushrooms, in the dream I knew all about mushrooms, and we spent the rest of the dream chopping them up together and talking on our cellphones.

After that I was on the top floor of a hotel with my extended family, watching people swim in the pool down on the bottom floor. On tv the news said that China had just issued a new type of currency and that there were free samples of it in the other corner of our room. We each went over and got one, they were green and gray plastic dodecahedrons that you could fold up lots of different ways. Most people were confused and disappointed and disinterested but to me this seemed very ominous and I could feel my heart beating and I was afraid. On the news people were saying how absurd the new money was, they were saying they were just toys, what were banks going to do have piles and piles of these things, how would they fit into cash drawers? But I knew all that and I knew why. Someone came on tv and said what I already knew, that paper money hadn't meant anything for a hundred years, all that mattered was the abstract unfathomable numbers on a computer screen, and the people behind the new money were mocking all the tiny normal people and our need for something concrete.

But before any of that, when I was awake, I ate lunch with Phil and Grace and their moms and Sharon and Paul. Everyone wanted to talk about Daniel and Abby Zender and growing vegetables on giant towers. If I had that many vegetables, I wouldn't know what to do with them because I don't have a family of four to feed for a year, I only have myself to feed for a year.
Ty -- May 26, 2009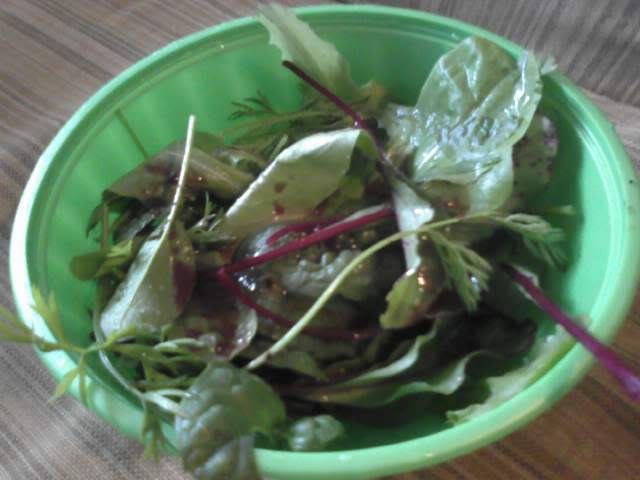 Every day now I have a salad out of my garden - spinach and lettuce and beet tops and carrot tops, really good. I'm ready for corn and cantaloupe and watermelon and cherry tomatoes etcetc but those are all quite a ways away. I might be able to eat little baby potatoes soon though.
Last night Colleen started her birthday party at my house and we all had burgers and watermelon and sweet potatoes and did anyone ever do anything with those peaches? I just now remembered them.
Ty -- May 22, 2009

In between the midtown library and the city utilities building there's this banner that shows this lady smiling lady holding a roll of pink insulation and it says Save Money And Energy! and I have seen it a lot of times but today was the first day I realized she was holding some insulation and not a giant piece of pastrami.
Ty -- May 19, 2009

A couple days ago I walked to Downtown Market to buy a single onion. It was my second time going in there. I needed the onion for the Himalaya rice and I was briefly outraged because I thought they didn't sell onions, but they were just in a different place than all the other vegetables. When I was walking home with the onion I remembered a part in THE BROTHERS KARAMAZOV where somebody told a story about someone who never did anything good in their whole life and then one day they gave a poor person an onion, and then when they died and went to hell an angel came to hell with an onion and the person in hell grabbed onto the onion too and the angel dragged them out of hell with the onion. All my favorite parts in this book are about food. Dmitri is currently my favorite of the brothers because the last few chapters have been about him and a while ago he talked about oysters:
"There's no time for oysters," said Mitya. "And I'm not hungry. Do you know, friend," he said suddenly, with feeling, "I never have liked all this disorder."
Ty -- May 18, 2009

On Friday at work there were homemade breakfast burritos and the best homemade salsa and me and Tina and Karen went to Pappy's for lunch and when I got home I had some orange sherbert and then I went to South Ave and had pizza with Nathan and Matt and then I threw up!! On Saturday all I ate all day was a giant smoothie and a giant pot of Himalayan rice. Today after church I grilled some veggies and then went to Ace to get some cherry tomato plants and cauliflower plants and green bean seeds and Nathan was getting off work so we went to Buckingham's for some bbq and Nathan was in the best mood of his life. Right now I'm drinking a big ole Coke and I'm in the best mood of MY life! Big ole sun is hot and bright, I'm grilling every day, everybody's done with school, I'm about to not have a job, supposedly Pineapple Whip's open, and all I'm wearing for rest of the summer is green gym shorts and SOMETIMES a bright yellow t-shirt.
Ty -- May 17, 2009

At work people kept giving me snacks: banana nut muffins, marshmallows, slim jims, Butterfingers, pumpkin cookies etc etc etc. When I got home I made lemon limeade and lemon lime yellow pepper tomato basil rice, both of which were DECENT. I also found a DECENT Springfield food blog a few days ago, and today I found another one that I like a little better. The first one showed me where you can win food at the new Ziggies, there's gonna be 400 winners so go win something and then we can all go eat our free food togther.
Also I finally made myself try something other than a burger at Grad School and didn't regret it at all, fish tacos highly recommended, best restaurant in town.
Ty -- May 13, 2009

Last night I was told I need to plant my cantaloupes IMMEDIATELY. Karen at work's dad was supposed to find out for me what kind of cantaloupe seeds to plant but he can't remember, but I'm not too concerned about planting them IMMEDIATELY, in real life they would just get planted whenever a bird poops them onto the ground, not on some certain day. The rest of my garden is growing really good and I want to eat it already. Whenever someone hears I have a garden they have a lot to say about it. Not that I just tell people I have a garden, I never just tell anyone anything, but they find out. People either have lots of questions or lots of advice, and it gives me a chance to act either a lot smarter or a lot dumber than I actually am.

On Monday there was a bbq at my house and Nathan and John & Alyson and Maggie and Phil & Grace all came. Maggie made some really good cauliflower and me and Nathan collaborated on some vegetable packets. Cauliflower and radishes can both taste good, I had no idea. The theme of the bbq was supposed to be pigmeat but no one hardly ate any. I had bought some pork brats at the farmer's market on Saturday but I was predisposed to not like them because the guy selling them to me tried to tell me they would be the best thing I would ever eat. I had already bought them so it's not like he had to convince me of anything, and The Best Thing I Have Ever Eaten is always just going to be like a chocolate chip cookie or a watermelon or maybe some pizza, so why would someone try to tell me it's going to be their stupid pork brat or cheesesteak or oven-roasted chicken. Anyway today after work I mowed my lawn and then grilled the leftover vegetables and a leftover brat and felt real good and now I'm sleepy.
Ty -- May 6, 2009

If we all kept kosher nunna this woulda happened!
Ty -- April 30, 2009
Huevos rancheros whatever way you want it: ants on the skillet, hotpad on fire, Graceland on repeat. Only place plays more Paul Simon than me is South Ave.
Minutes after posting that thing about No Money May I found out I'm not going to Mexico anymore, and that was my main reason for wanting to save money, so nobody freak out I can still eat supper with you and drink two beers with you and and get fries at trivia with you and go to the library book sale by myself. If I spend slightly less money on hanging out with people and significantly less money on hanging out with myself I think that'll be enough to get me a decent savings piled up.

And the ole Bailey's is gonna get turned into a ZIGGIE"S?! What kinda world is this anyway! What do people think! Personally I'm real cool with it as long as it doesn't run Lili's outta business, but I think it probably will.

Ty -- April 29, 2009
A couple days ago I ate at Bambino's with Will and Colleen and it was the last time I can go out to eat with anyone for a long time. We sat on the patio and there was parmesan blowing all over all of us. The reason I can't go out to eat with you for a while is because I started No Money May four days early. No Money May is where all month long you don't spend any money on anything besides groceries and gas and bills, and you cut your gas expenditures in half and your grocery expenditures by 30%. I made those last parts up just now actually, and specific numbers aren't important - spirit over letter - but the idea is to put a lot of money in the bank. The main thing I have learned so far while doing this is that country radio gets even better if you replace every instance of the word 'Texas' with the word 'breakfast.'
Ty -- April 28, 2009

This morning I got to go to the the farmer's market for the first time this year, and I got eggs and honey and was still too confused and intimidated to try to buy meat. Yesterday I went to Pappy's for lunch again and it was so good and the sun was so bright and I'm gonna get the catfish next time. Then at night I went to the baseball game with Nathan and Eric and John and Alyson. I got nachos and remembered the time I went to a football game with Will and his parents and shared nachos with his dad and we both kept spilling cheese on Will's lap. Alyson and Eric both had funnel cake for the first time ever. It was kind of a lousy funnel cake though, it was more of a cake than it should have been, it was just donut blobs. It also had a gross burnt birthmark on it that Nathan made me eat :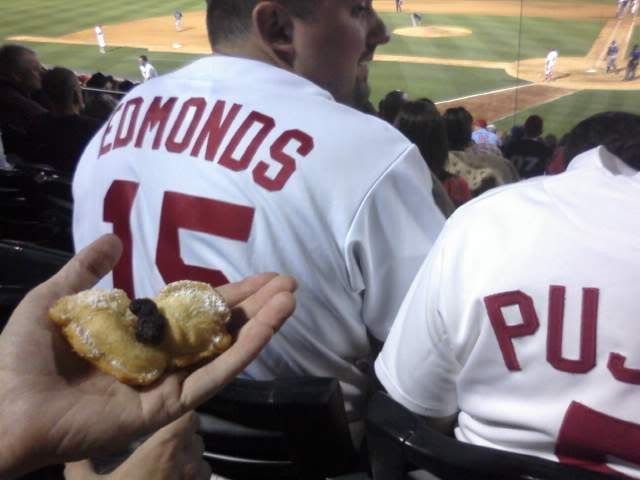 I'm still reading THE COMPASSIONATE CARNIVORE, and it was making me want to be a sheep or pig farmer, but now there's that pig flu in Mexico that's killing everybody. When swine flu mutated in 1918, it killed over 500,000 people in the US, and five percent of the population worldwide! I'm trying not to freak out about it, but viruses are one of the scariest things and I think they're going to play an important part in the end of the world and I'm going to Mexico in like a month.
Ty -- April 25, 2009

Apple n mushroom stir fry: not bad, but not recommended.
Ty -- April 23, 2009
How can you tell if something is good for you: if it takes a long time to give you diarrhea. The spaghetti I made gave me diarrhea two hours after I ate it, so that means it's healthy and good for me. When I eat at McDonald's or Applebee's I get diarrhea before I'm even done eating because it just goes straight on through and there's no nutrients or anything grabbing at my insides and being absorbed and making things slide slower.
Ty -- April 21, 2009

Today I mowed my lawn for the first time this year and then drank the last two bear beers and ate some beans n rice n avocado. I meant to read those chapters of DANDELION WINE about the first lawn mowing of the year, but I was too excited to read about it, I had to go do it. My garden is coming up good too - tiny little carrots and beets and onions and lettuces and spinaches. This weekend I'm going to plant tomatoes and watermelons. Two weekends ago I told Tony and Maggie that I'm going to replant my whole garden with corn, but I don't know why I said that, it's not true. And then this last weekend I was at Maggie's apartment and she was showing everyone her basil plant, and I smelled it and coveted it. So yesterday I went to the Drury plant sale and got two kinds of tiny basil plants. They're too tiny to be of much use yet though, so after that I went to the grocery store and got a package of basil leaves and it cost me more than the two little plants put together, and I used to to make the best spaghetti. I keep making the best spaghetti and the best burritos. What I have noticed though is that I never eat meat because I'm not good at picking it out or cooking it. But if anyone ever wants to go to some restaurant to eat giant expensive steaks, let me know, I'm very willing.

Ty -- April 21, 2009

A couple days ago I heard that India is probably headed for a dust bowl and its farmers are all in debt because a couple decades ago they were convinced to stop farming the way they had for thousands of years and start farming like Modern Americans, with monocultures and lots of chemicals. And then that night I watched that movie THE FUTURE OF FOOD which is about genetically modified food and genetically modified seeds and how Monsanto is using them to take over all the crops in the world (this sounds like an exagerration but IT"S NOT) and how Springfield MO's own Johnny Ashcroft helped them out in their court cases against regular old farmers. Whatta guy! After all that I was so upset that I had to go be angry somewhere so I went and hung out with those tea party people but I don't think I agreed with many of them and I stopped being angry and got confused.
Then last night immedately after leaving Bible study I realized I hadn't eaten in over eight hours and by the time I got to the grocery store I felt like throwing up and I had had a bad premonition about the coming weekend that made me really stupid and lonely, so I just wandered around the grocery store being miserable and ended up at the checkout with a box of tea, two cans of ABC Spaghettios and some kind of nasal spray. When I got home I ate the Spaghettios lukewarm and in the dark so that if they tried to spell anything at me I wouldn't see it, and I told myself this was an accurate metaphor for my life. I tried to think if there was anything in my house that would make me sleep good and then I remembered that part at the end of THE MAGICIAN'S NEPHEW where he takes his sick mom the magic apple and feeds it to her "and no sooner had she finished it than she smiled and her head sank back on the pillow and she was asleep: a real, natural, gentle sleep, without any of those nasty drugs, which was, as Digory knew, the thing in the whole world that she wanted most." That made me feel a little better but today I still didn't feel good enough to eat anything besides saltines and Gatorade.
Ty -- April 17, 2009

Grampa looked at the table and said "there's enough candy over there for the whole country" and I thought about all the candy in the country and how big of a pile it would make. Texas just declared independence, I might go to a tea party.
Ty -- April 14, 2009

For lunch today I went to I think a VFW hall with Tina and we got cheeseburgers, it's where she goes to play bingo. When we got back to work our boss was very impressed with our cheeseburgers and with us, as she always is. For supper I went to Korea House with Matt. It was alright, but not great, I don't know why I would go there again. I liked how orange and yellow the inside was though. I got some kind of sauce all over the sleeve of my jacket and there might be blood on the inside of my jacket, but I'm a little too nervous to check. The blood's not from eating at Korea House, it's from something else that happened.
I'm reading this book THE COMPASSIONATE CARNIVORE. People keep asking me what it's about and I like to say "meat" and then just stare at them. If they want more information than that I say that it's about a lesbian who has a farm. See, I had heard about the book, and then when I saw it was written by a girl I immediately assumed she was a lesbian, and also felt like a jerk for assuming that. But then when she pointed out in the first paragraph that she was in fact a lesbian, I felt like a little bit less of a jerk. It's really interesting and easy to read. She talks about how many pounds of meat Americans eat every year, and how it adds up to something like 240 total animals. Every year you eat TWO HUNDRED AND FORTY animals! So do I! She also talks about how much meat gets wasted, and it's disgusting. Basically every year tons of animals are raised as meat and then slaughtered but no one eats them, they just get thrown in dumps. This happens to like millions of animals. I would give you actual numbers but I don't have time to look them up right now because I have to go watch some of my favoritebands. So just read the book yourself, the library's got it.

Ty -- April 10, 2009

When blackberries get moldy they just look like they have sugar on them.
Ty -- April 8, 2009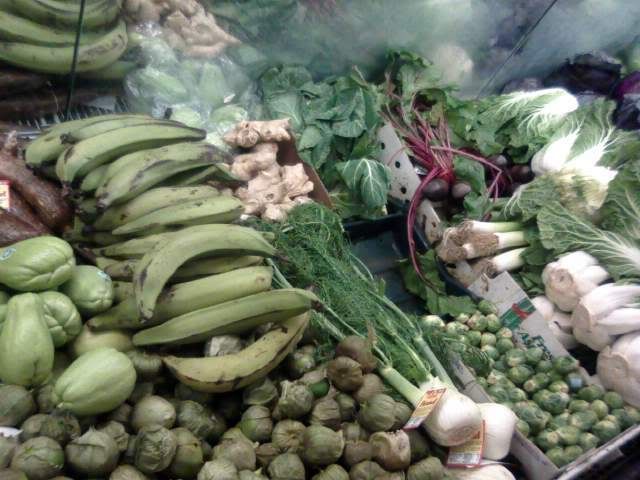 On Saturday I finally planted my garden and then it immediately dropped to 29 degrees and it is currently snowing.
On Sunday morning halfway through church I had to hurry to the bathroom and throw up something neon green. It was my first time throwing up in like two months, which is really good for me, but I used to always kind of know why I was throwing up, but I have no idea what that was or why it happened. After church I was in a car full of people and we went to Planet Sub, I had never been there before. It was Good and their bread was Really Good.
Several people at work say they're going to start growing their own tobacco, and I'm allowed to talk about this on food blog now because tobacco has recently come under the jurisdiction of the FDA. That's not something I have much of an opinion about, but it seems like something Wendell Berry would be mad about, and I usually trust his opinion on things. He's the only person currently living who I would unhesitatingly describe as Wise. I think it's cool that they're going to grow their own tobacco, even though I think smoking is really stupid. It's really depressing to see someone over the age of, say, 30 smoking, and I'm okay with people doing stupid things but not okay with people doing depressing things. The reason they want to grow their own tobacco is because the taxes on cigarettes are gonna go up so much, and I think it's cool that they're mad about something being taxed, it makes me feel like this is the Revolutionary War.
Ty -- April 6, 2009

Last night at the grocery story I creeped out a girl in the banana section and a different girl in the yogurt section. I then spent several minutes wandering back and forth between the organic and inorganic eggs. While I wondered whether it was okay to buy free range eggs that came in a styrofoam package (I'm boycotting styrofoam, have I told you about this? even Sonic!), a dude in shorts and a ski vest brought over an old lady who worked there, and pointed out that the Farm Fresh eggs that were supposed to be on sale weren't on the shelf. Those eggs were the main reason I had come to the store. The three of us took turns making eye contact with each other and not saying anything and then I got nervous and wandered off. While I was picking out a salad dressing I heard someone on the intercom say "would the young man who wanted the Farm Fresh eggs please come back over here by all the other eggs" and I pretended they were talking about me instead of the ski vest guy, but when I got over there there were still no good eggs and I had to get the cheap little white ones. I eat a lot of eggs lately and I don't wanna be a snob, but those white ones are no good.
At Bible study a little bit ago we had really good taco salad and talked about heartburn and I have to get out of here now because there's shredded cheese and sour cream getting all hot and melted in my backpack.
Ty -- April 2, 2009
All the apple trees survived. If anyone reading this owns a house, I'll bring a couple over and you can plant em in your yard. And in fifteen years you can pick an apple off of it. I don't actually know how long it takes, probably not quite that long.
I've been eating lots of black beans n rice because it's delicious and because it's the Great Depression. Also lots of ice cream.
Ty -- March 30, 2009

When I dig my hands into my compost pile it's warm in there, so that means it's working - I'm making dirt. I dumped some eggshells and avocado rinds and lots of dead grass and dead leaves and the tops of pineapples and a few handfuls of those little purple flowers and it turns all that stuff into something better than dirt, I can't believe it. I like to think of the compost pile as a stomach sitting out in the corner of my yard. I don't know how the stomach that's inside of me works, so I can call anything a stomach that I want to.

Back in October when I was eating a lot of apples I planted some apple seeds in little pots and then put the pots in holes in the ground and then covered the pots with a pile of leaves to keep them warm for the winter, and now I have a couple of the tiniest little apple trees growing. I can't believe that that can happen either. It's supposed to snow tomorrow so I covered them back up, they better survive. And as soon as this last snow gets out of here I'm gonna finally plant my garden.
Ty -- March 27, 2009

YUUMMMMM tiny little rice & black bean & avocado burritos
OWWWWCHH burning my thumb every time I turn over the tortillas
Ty -- March 23, 2009

I've been sending a lot of facebook messages about milk and I read all the Bible verses about milk and I said something about milk and then people prayed for me. If you didn't know, we (humans) are the only things that keep drinking milk after we stop being babies. And now that I think about it, I assume we're the only ones that drink milk that comes from another species. Unless that's what those ants are doing, drinking aphid milk. But that's probably not the same. Anyway I decided it's alright to drink milk. Will Hickman says organic milk is stupid and that if you live in Springfield you should buy Hiland milk, and I trust him because he used to be a dairy farmer. When that movie 'Milk' was in theaters I went and saw it and I was expecting to feel sad or angry when I left the theater but I didn't really. I don't know how to care about any movies or any sports.
Ty -- March 22, 2009

popcorn and blackberries for supper, blackberries and toast and scrambled eggs for breakfast, Pappy's for lunch, pizza for supper, pizza for lunch.
I don't know why it took me so long to realize I should go to Pappy's for lunch. Me and Tina went on Friday and it was great. It's a two minute walk from work, they've got country music and good brisket and funny friendly people, and drinking a beer on your lunch break makes you feel real cool.

I am currently sitting alone in the Mudhouse for the first time in my life, I am currently comfortable in the Mudhouse for the first time in my life.
Ty -- March 21, 2009
special edition update
Eating Some Ice Cream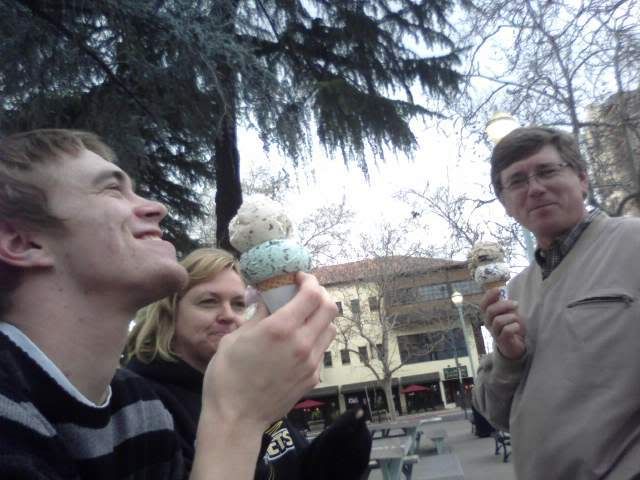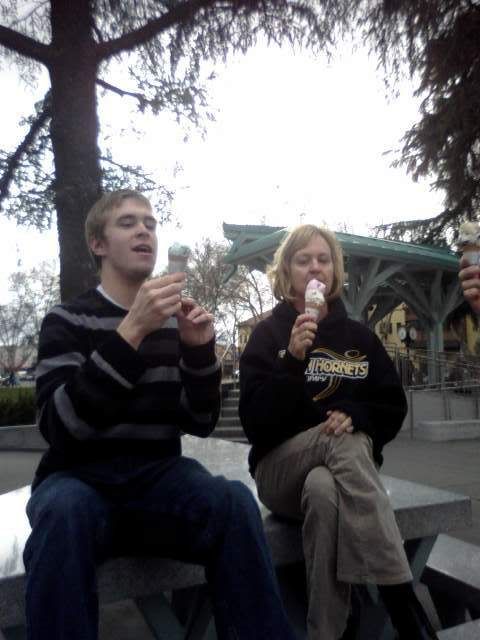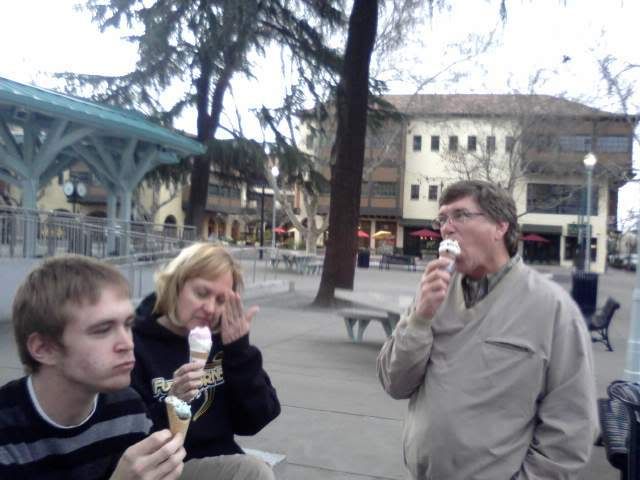 Ty -- March 19, 2009

Hi I'm in California and we're about to eat a pizza that's in the oven. But so far all I have eaten here is some raspberries and some sand. On the airplane I read a part in THE BROTHERS KARAMAZOV that was good and scary and about bread. A couple Thursdays ago Lindsay made the best rye bread. When I get back to Missouri I want to start trying to make bread again. Don't get too upset but I kind of hate this blog lately.
Ty -- March 14, 2009
Is it possible to overdose on vitamin C? One time Maggie said orange juice is bad for your teeth, and it hasn't stopped me from drinking gallons and gallons and gallons of it but I think about it sometimes, and I've started flossing. Is Emergen-C bad for your teeth? I don't actually care, I just want to know. It's all I ate all weekend except for a Black Walnut Peanut Butter Puddle from the Mudhouse. Will Andree was right, it was really good.
Ty -- March 9, 2009
I think I got distracted from my main point which was that we should be aware and concerned that the modern food system is set up to make us unhealthy and unhappy and also destroy the world, but that we should be more immediately concerned with the fact that there are lots of people starving to death.

Ummm anyway: when I went to the grocery store a couple nights ago someone wearing a tie looked at me suspiciously and asked if he could help me and I said he couldn't. Then I saw Brian and Brice, and Brian asked if I was looking for something and I said I couldn't remember where the salad dressing was. He asked if I was looking for the cheap kind, and I said I was looking for all the kinds. I ended up getting Newman's Own Cranberry Walnut, as recommended by Alyson, and which had a bizarre short story on the label. As I was buying it the cashier asked if it was good, and I told her it was really good even though I had never tasted it, and then she asked if it was salad dressing or bbq sauce.

Last night I went to the library to write a story about a girl making tacos and then I went to the cheesesteak place to get some onion rings. Right before the onion rings a little boy pointed at me and told his mom "I don't want THAT guy in my house!" "Yeah, he's scary, isn't he?" his mom said. At first my feelings were hurt and then I got mad and then I realized that they weren't even talking about me, they were talking about a big painting hanging behind me in a window. "No," the boy said, "he's just UGLY." The onion rings were really good, as long as you like fried, salty, crunchy stuff. I just want there to be lots of places downtown where we can get some good snacks.
Ty -- March 7, 2009

If anybody saw my sort of insane post a few weeks ago about climate change/the end of the world/etc that I decided to delete for... religious reasons... I'm still thinking about all that stuff except now I'm thinking that I was worried about it in the wrong way. Like, if the aspect of climate change that makes me the angriest is how much the poorest people in the world will be affected by it, maybe I should try to do things that would directly benefit them instead of worrying that the beef I eat is indirectly hurting them by minutely contributing to climate change, which I'm pretty sure is unstoppable at this point anyway. I mean, instead of paying significantly more for local meat, I could donate the money I would have spent on that to The Water Project, or something. My cousin Katelyn, who is, like, sixteen, drinks mostly water and gives the money she would have spent on coffee or soda or whatever to the Water Project. Eating is one of the main things Jesus does and talks about in the Bible, and he's always telling people not to worry about what they're going to eat or what other people are eating. And I know everyone thinks he's just saying not to worry about the future but I really think he also means that it's not good to be neurotic about what kinds of things you eat. I want to talk about this for a long time, I want to talk about everything for a long time. sry so srs
Ty -- March 4, 2009
Weekend Update: On Friday night I did what I always do on Friday nights which is nothing. At 11:30 I decided I needed orange juice so I went to Food 4 Less and while I was there I got a call from Tina and Martha and they played the piano and harmonica for me. On Saturday morning I walked and drove in the snow and then ate apples and kumquats and kohlrabi sprouts in my house. It was my first time buying kumquats in my life, and on the same day my dad bought them for the first time in forty years. We didn't plan it. In the afternoon I went to Grad School with Will. The Full Ride is still maybe my favorite burger in town but it seemed smaller than the last time I had it and I think the bun was different. Is the bad economy finally having a direct effect on my life?? Later I went to South Ave with Will and Colleen and later than that everyone had a delicious/horrific meal at Steak n Shake. On Sunday the sermon at church was about hotdogs and part of it reminded me of the poem about a hallway. When church was over I didn't leave, I stayed and ate the best tamales and refried beans. I didn't even know I liked refried beans.
Ty -- March 1, 2009

as opposed to CONSIDERING making yogurt
Ty -- February 27, 2009

excuse me - THINKING about making yogurt
Ty -- February 27, 2009

making tacos, making popcorn, making yogurt, making compost
Ty -- February 26, 2009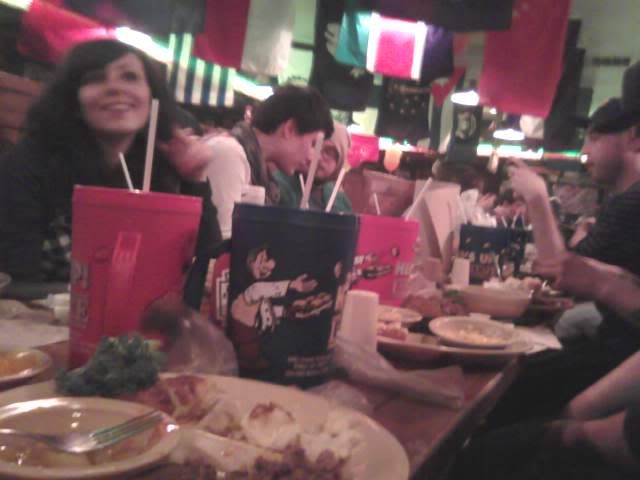 Well I have eaten a lot of things: Alyson's chicken chili, Lili's with Matt, Lili's with my grandparents, Boner party of eight at Lambert's, marshmallows at work, pizza at work, pizza at small group, pizza with myself, several cheesesteaks, several bananas, lots of rice, a couple sardines. I had an idea to start a foodblog side-project called Eating Fifty Cheesesteaks, but now I probably won't do it because it would be really funny but also expensive and unhealthy and I like cheesesteaks but I don't love them.

What I have been thinking about is how because of the country we live in and the decades we live in, for every meal we could eat almost literally whatever we want. Of all the foods that have ever been eaten on the planet, we could basically have ANY of them. That's what I try to think about when I am eating and getting ready to eat: out of everything that exists, THIS is what I'm choosing. It's like at the beginning of IZZO when Jay-Z says "Thanks for comin' out tonight. You coulda been anywhere in the world, but you're here with me. I appreciate that." I love that so much, I think about it every time I hang out with people. One of my other favorite things Jay-Z says is also about food but it has a cuss in it so I won't say it here.
Ty -- February 22, 2009
I used the steaming tray on my rice cooker to make a good meal of fish, vegetables, and rice. Mark Leidner used a website to make a a good poem about buying groceries and chopping up vegetables for a stew. When I make vegetable stew it looks disgusting. Everyone at works says it looks and smells so good but what are they talking about, my favorite thing about it is how disgusting it looks.
Ty -- February 17. 2009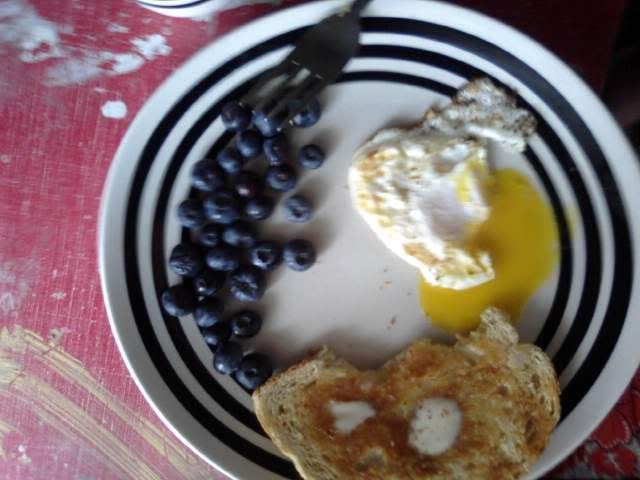 This morning I had brownies for breakfast but usually I have eggs and toast and orange juice, and lately I have been having eggs and toast and orange juice and blueberries. Blueberries keep being really cheap at Food 4 Less so I keep getting them, and Food 4 Less is the grocery store I go to the most often now. My only problems with it are: 1. no good bread 2. no craisins 3. i can't figure out who Knathan's brother is. But pretending that every person I see at Food 4 Less is Knathan's brother is a really hilarious game.
Yesterday for lunch I went to the new Chicago CheeseSteak place downtown - it's in the old Merle's spot, right between the Mudlounge and the new Merle's. The guy who runs it was very friendly and while he made my sandwich he assured me several times that it would be the best Chicago cheesesteak I had ever eaten. Little did he know it was the only Chicago cheesesteak I had ever eaten. It was good, not great, I have surprisingly little to say about it, but I'm sure I'll go there again eventually. Then, at night, I went to Food 4 Less to get eggs and orange juice and blueberries and brownie mix. While I was there I realized that the last several times I had been in Food 4 Less I had not been by myself, and I got lonely and went home and made the brownies but I didn't eat them I just went to bed.

Ty -- February 15, 2009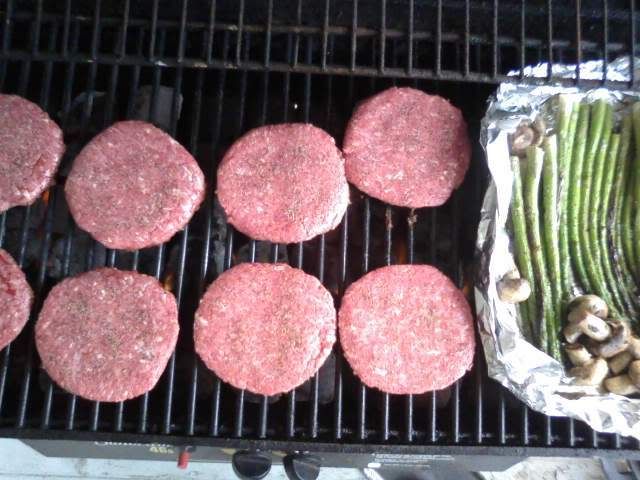 It felt like spring for a few days and I started planning my garden by making lists and doing research and stabbing the ground with sticks and squeezing wet leaves in my hands. I want to do better at having a garden this year and I want to grow vegetables that I can take to a bbq. On Sunday me and Will and Knathan had the first bbq of the year. After a while Matt came to the bbq, and then a dog came to the bbq.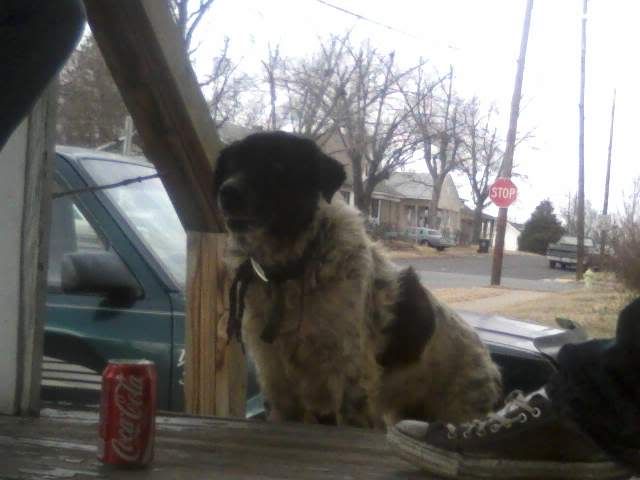 Tonight I had shrimp pad thai and crab rangoon for supper again. Crab rangoon has never seemed like a very Chinese food to me so I looked it up and it's not. No one knows when it was invented, some people say the 1950s and some people say it was invented at the 1904 World's Fair in St Louis. Supposedly every food was invented there though. Foods reportedly invented at the 1904 World's Fair:
ice cream cones, funnel cake, cotton candy, ravioli, hamburger buns, hot dog buns, iced tea, Dr Pepper, crab rangoon
Ty -- February 11, 2009
The other night I watched Cool Hand Luke and was really disinterested the whole time except for the part where he ate fifty eggs in one hour. And the end was okay.
My dad mailed me a five dollar bill so I took it to Thai Xpress because no one on the morawk board can stop talking about it so I just think about it at work all day. Last time I was there I ate with some girls I barely know from church/bike gang/trivia and it was really funny. That was the night Obama got elected. Try right now to remember everything that happened that night, there was a lot. I think about Obama in a different way than I did then, but I still think about George Bush and John McCain in the same way.

In between Cool Hand Luke and Thai Xpress I dreamed that I was in a basement with all my cousins when someone upstairs yelled that it was time to eat. We all ran up there and it was our uncle Rick standing by a giant silver tub. We each pulled a huge floppy fish tail out of the tub - actually they were more like seal tails or masculine mermaid tails - and when it was our turn we would hand the tail to Rick and he would whack it against the edge of the tub to knock all the scales off and then pour a pile of slimy steaming fish lumps on to our plate.
Ty -- February 5, 2009

Yesterday I went to church and halfway through I had to hurry to the bathroom and throw up half a gallon of orange-mango-pineapple juice. After that I felt great and I went back to church. At night I didn't watch the Super Bowl, I went to Bambino's with Matt and Will Andree for three hours. Somehow none of us had ever eaten there before, but Will had delivered bread to there. I thought it was great - the same price as Nonna's but better food and more of it. The last time I watched the Super Bowl was in Fulton at the beginning of 2007, when Kanye and Common wrote that song about it and when I made these nachos: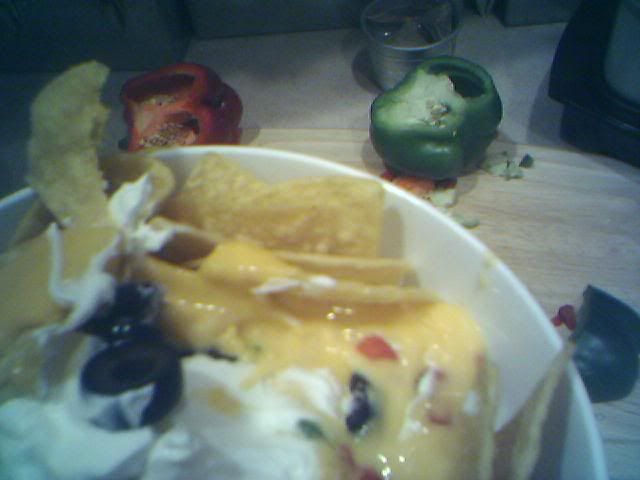 Ty -- February 2, 2009
I haven't had no pizzas or no sushis in so long
Ty -- January 29, 2009

Hmmm I guess I thought they were called beer rocks because like Germans ate them when they drank their beer or something. I took some to work for lunch one day and all the secretary ladies went crazy over them and acted like they were the most impressive food they'd ever seen.
On Saturday I was walking around the grocery store carrying a pineapple and an eight year old boy saw me and yelled "PINEAPPLE." His mom glanced at me and told him not to hit anyone and he looked really happy and proud of himself. I didn't know what was going on but I was really happy too. When I got home I cut up the pineapple and made some uhhhh Himalayan rice. As I was carrying the food out the door on my way to Nathaniel's house I dumped the pineapple all over my porch and just left it there. When I got over there him and Rebecca had made some good vegetables and tofu and Will Andree had made some excellent meat-wrapped pears. Soren didn't make anything because babies don't know how to cook.
Later, at the show, Alyson slipped me a handwritten recipe for white chicken chili, and as I was trying to sneak off Knathan started yelling at me about how to make some kind of burrito. Food blog is over six months old.

Ty -- January 27, 2009

Those rolls with the meat in it that Glenda gave to you are called bierrocks I think, not "beer rocks." I'm not really sure what they are though, except they are German. I was reading this story for my class about Africa and it made me think of the food blog. It was written by a Moroccan traveler in the 1300s when he was visiting the kingdom of Mali and the sultan was about to give him gifts and stuff:
"So I stood up thinking --since he called it "stuff"-- that it consisted of robes and money, and lol, it was three cakes of bread, and a piece of beef fried in native oil, and a calabash of sour curds. When I saw this I burst out laughing, and thought it a most amazing thing that they could be so foolish and make so much of such a paltry matter."
The most disturbing thing about this to me was it clearly says "lol" in the text and it was written in the 1300s. This must be either an extremely modern and unprofessional translation or "lol" means something else, but it works perfectly in the paragraph to mean "laughing out loud."
Joel -- January 24, 2009
Potatoes: how sprouted is too sprouted? A while ago I got a giant bag of potatoes and have been eating baked potatoes pretty often. Tonight when I got some out I could tell where they would have sprouted eventually if I hadn't eaten them. They hadn't sprouted at all yet, there were just the tiniest little white nubs, like a potato with smallpox. I rubbed them off and everything was fine but I'm worried the rest of the bag will be actually sprouting by the time I want to eat potatoes again.
What I have been thinking is that Missouri isn't a very good place to get fresh fruit. I feel like the only things we can grow here are apples and watermelons. All the fruit in the grocery store is all banged up and shipped from Mexico and Chile and doesn't taste like anything. If I move somewhere I want to live where it's easier to get fruit. It's probably better in basically any larger city, but what I really want is for someone to put a Spanish chip in my brain so I can go to South America. I am willing to pay up to ... six hundred dollars to have this done.
Ty -- January 22, 2009
The other day I made some good soup by cutting up and then smashing up two potatoes and an onion and like six carrots. One of my first memories of the internet is of me and Joel telling someone in a chat room that our favorite food was carrot soup, and then we had to look up a recipe to tell them how to make it because we had actually never had it and thought it sounded gross. And it was so strange that we could influence what someone who we had never met and who probably lived hundreds of miles away was going to eat. Eating is so physical and personal! The internet could do anything! Since then the internet has done all kinds of things and now we can't even tell whether something is happening on the internet or in real life.
On Saturday I ate at The French Quarter with Matt. It's new, it's across the street from Maggie's apartment. He wanted to go because Go magazine said it was good and I was a little skeptical about it because I walked past it once and the way their napkins were folded made it look like it might be too fancy for me. But we went and we sat by a mermaid fountain. I had a good huge shrimp sandwich and Matt said his gumbo was good, and we had benets or whatever and got powdered sugar all over everything. We were there for over an hour and we were the only customers the whole time. I said maybe no one was coming in because of the napkins and Matt said maybe no one was coming in because of us. I wondered if people thought we were gay and weren't coming in because they thought it was a restaurant for gays only. But it's not, anyone can go in there who wants to go in there.
I want to make some MLK Day chili this afternoon but the only food the internet will tell me that he liked was pecan pie and I don't want to put that in my chili.
Ty -- January 19, 2009

Twice this week I went into work with big globs of orange juice pulp clumped in my mustache and no one knew how to tell me. Today I'm not at work because my eyes hurt and I can't breathe and I threw up baked potatoes when I got out of bed.

A couple nights ago I went to Amigos with a bunch of people and shared fajitas with Rachel. Everything I've ever had at Amigos has been good, but fajitas are probably their best thing. I feel like I've been to Amigos a lot but now that I think about it I can only remember one other time. Two summers ago I used to go through their drive thru a lot and go eat at on the baseball bleachers at Fassnight park.
Ty -- January 15, 2008

My brother drove to Springfield to play backgammon and bring me a library book and some... "beer rocks" and the next day we went to Taylor's. While I waited for him to get there I listened to the people at one table talk about black holes and wormholes and white holes, and listened to the people at another table talk about how by the end of the year the government will have made cash illegal and then we'll have to use credit cards for everything and then they can charge us whatever they want. Tomorrow I start another job so I won't be able to go to Taylor's or Casper's again for like four months. I hope that little cafe thing is still open in the courthouse basement because I'll be working right next to it and last year they had good cookies and good other stuff but not very good biscuits n gravy.
Ty -- January 11, 2009
I went to California where we made pizza and ate salmon and chili and chocolate. Then we went to Oregon and ate at Black Bear Diner where everything had bears on it and everyone that worked there was bears. Then we went to Kansas and had tacos and hardtack and deer sausage and fried onions and pickled watermelon. Here are just a couple pictures of eating: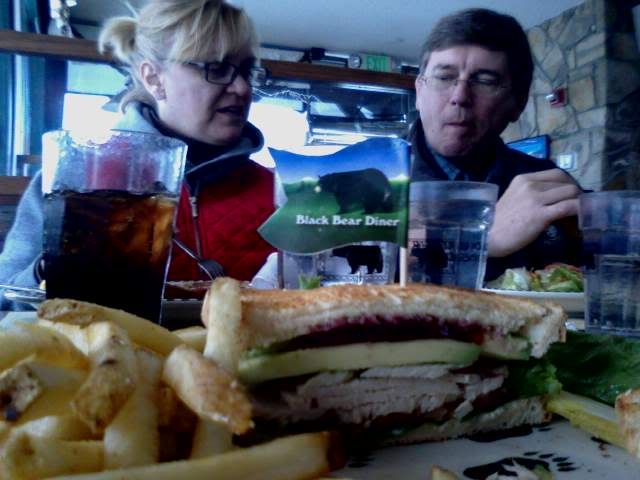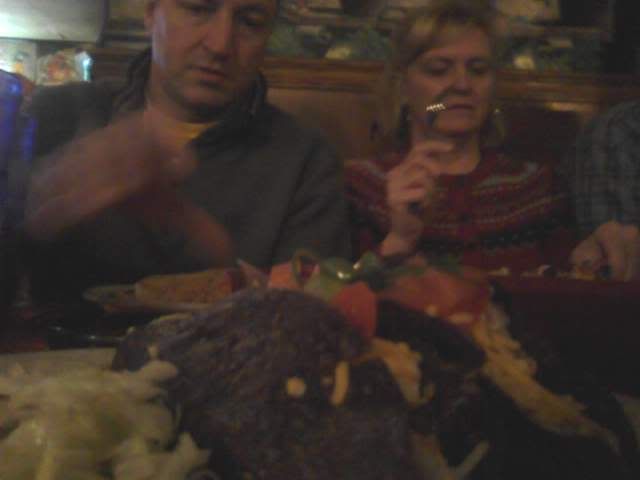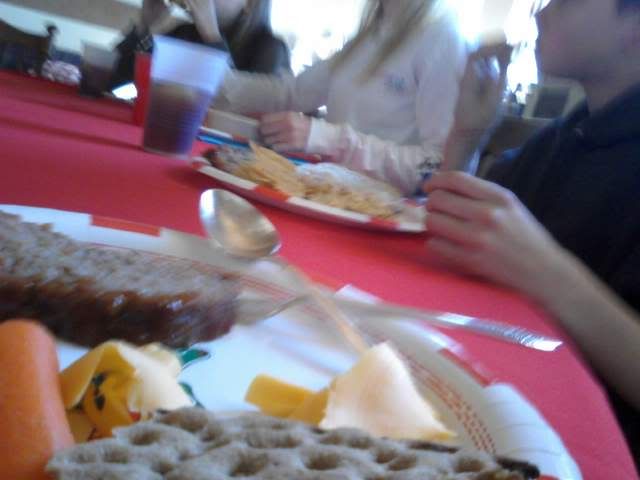 For Christmas I got a crockpot and a rice cooker, just like I asked for. The rice cooker makes good rice and was recommended to me by Roger Ebert. Shannon says someone else got a ricer cooker for Christmas too, but she doesn't remember who. In the crockpot I made some chili out of meat and vegetables and spices that I just dumped in there. It was okay but it needed to have more liquid and I don't know where the tomatoes went. I also want to make Guinness corned beef in there, a giant pot of it and everyone can come have some. Matt got a crockpot for Christmas too, and Colleen got a free crockpot when she bought Will some cologne.
Ty -- January 6, 2009

Last night I ate four fried eggs and half a bag of chocolate chips and then went to the newly-opened Lilly's Diner with Matt and Will and Jessica. It's where Grandaddy's used to be and they have good onion rings and very good sweet potato fries so you should go there with me when I'm back in town. I told everyone I'm leaving for a month but it's like twelve days at the most. Right now I'm in Kansas City and my cousin David is cooking us a pizza. David is thirteen. He took a cooking class at school this year and when they made chocolate chip cookies they all got sick.
Ty -- December 19, 2008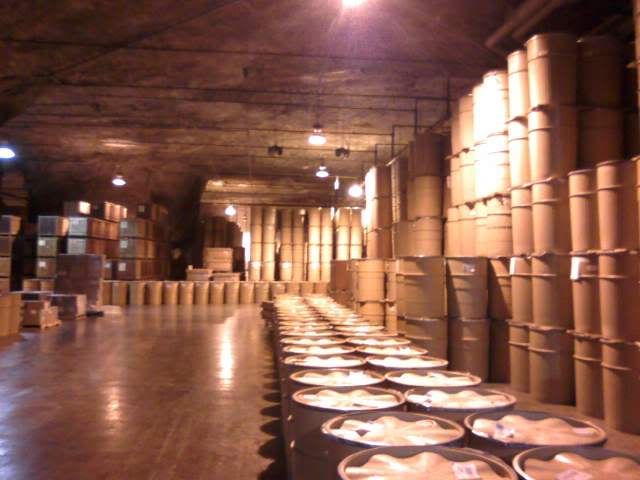 For a while I worked in an enormous underground storage facility full of thousands and thousands of barrels and boxes of cheese. If my job had been to feel tiny and climb on things and under things or think about dragons and prehistory and posthistory then I would have had a long and successful career, but that's not what they wanted me to do.
All I'm eating this week is scrambled eggs and baked potatoes. I'm constantly full and calm and happy and sleepy. This is my best and most natural state but no one gets to see me like this. Also I'm trying to bake bread again, using yeast this time. I still don't know what yeast is or how it floats around invisibly in the air but is still something you can buy in a little packet. Shouldn't yeast be getting into everything and making everything rise, not just bread dough? Yeast is why we burp it gets into our stomachs and raises up air pockets. My mom's grandma baked bread every day of her life, even when she was blind. Maybe lots of our mom's grandmas did.
Ty -- December 17, 2008
At night I have been drinking tea because it's hot and feels good and it might make me sleep better. I've also been rereading all of Laura Ingalls Wilder's books because I like them and I think they're important and they only take an hour to read. The other night I read this paragraph that made me feel good about drinking tea:
With such good company, the morning seemed to go in a minute. Dinner was almost ready when Pa and Mr. Boast came back with the bobsled. The enormous jack rabbit was browning in the oven. Potatoes were boiling, and the coffee pot bubbled on the back of the stove. The house was full of the good smells of roasting meat, hot breads, and coffee. Pa sniffed when he came in.
"Don't worry, Charles," said Ma. "You smell coffee but the kettle is boiling to make your tea."
"Good! Tea is a man's drink in cold weather," Pa told her.
Everyone in these books is so funny and knows how to do so many things that no one I know knows how to do.
Ty -- December 14, 2008
I ate lunch at Casper's with Phil and two nice old guys who told us about the history of Springfield and told us we should buy Casper's. We're not going to. Remember when my dad told me I should buy The Moxie! I'm not buying anything.

At trivia they asked us what country exports the most orange juice and for some reason everyone on my team immediately insisted it wasn't the U.S. so I said maybe it was Spain because I know they grow oranges. But it's Brazil. I went home and looked at my orange juice and it's made out of oranges from the U.S. AND oranges from Brazil, which is really stupid, I'm definitely switching to another kind of orange juice. At breakfast this week everything has been the same color: my King Vitamin, my t-shirt, my Brazilian/American orange juice, the Bolivar insulation trucks and weird bushes I can see out the window.
Ty -- December 9, 2008
A stranger drank his coffee in my truck, I drank a giant root beer and threw the ice at a building I don't like.
Ty -- December 6, 2008
A little bit ago I was at some art gallery, the only reason I was in there is earlier I saw through the windows a lot of good drawings and paintings of what someone bought at a grocery store. I wanted to get a drawing of a loaf of bread or a box of crackers but they were both nine hundred dollars. The guy who painted them's mom was standing around in there and she told me I should come meet him sometime but I said I didn't live here. I don't have a job anymore so now you have to go eat lunch at Casper's with me.
Ty -- December 5, 2008
brownies are so good and easy to make
Ty -- December 3, 2008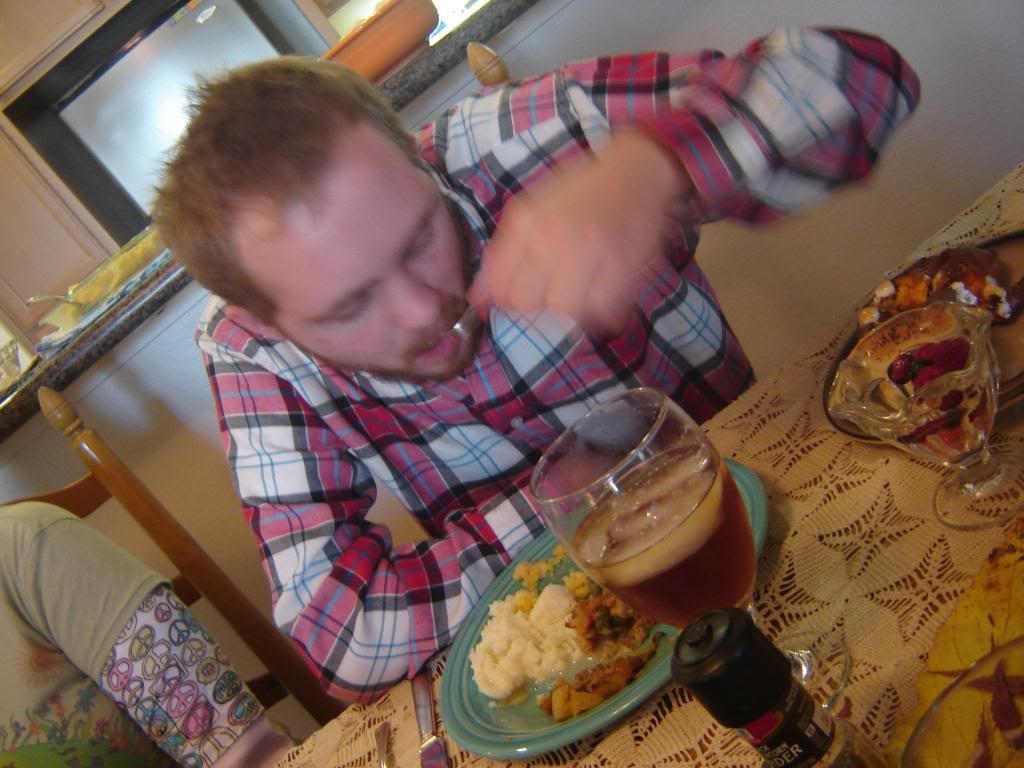 Me and Joel went to California for Thanksgiving because that's where our mom and dad live now. We talked about food blog but not why Joel doesn't post on food blog anymore, and we ate a million things: pizza, salmon sandwich, In-N-Out, turkey, tomalito, stuffing, mashed potatoes, sweet potatoes, green beans, pumpkin pie, another pie, scrambled eggs and black beans and avocado, a bizarre and intense lunch at a Chinese restaurant, steak and shrimp and calamari, and birthday cake.
Ty -- December 3, 2008


Yesterday I spent five hours getting a trivia team together and I guess it paid off cuz we got second place. I mean we got third, but I took a prize anyway. A Christmas tree ornament with some snowmen on it. While we figured out who our team was gonna be I ate two pieces of pizza, two junior bacon cheeseburgers, five chicken nuggets, and quite a few orange Starbursts. Probably a couple yellows too. And I watched that movie King Corn. It's about two guys who grow an acre of corn and learn about the corn industry and how almost all of the corn grown in America is either turned into high fructose corn syrup which is in everything you eat and is terrible for you, or it's fed to cows which is terrible for cows and then we eat the cows. It was an okay documentary but I already knew everything in it from reading Wendell Berry and like two chapters of Michael Pollan. One of the Michael Pollan chapters I read was about how corn has sex, it's really bizarre and cool. Right after I read about it I tried to make Shannon go to a farm and look at corn with me, but instead we got in a tornado and walked around a grocery store in Willard. In King Corn they said that we're the first generation that's going to have a shorter life expectancy than our parents. Cool, guys! At Bailey's the other night Phil was talking about Tupac, I don't remember why, and I said I liked the part in Changes where he says "Let's change the way we eat, let's change the way we live
and let's change the way we treat each other" and I think everyone thought I was telling a joke but I wasn't life is very serious.
Ty -- November 24, 2008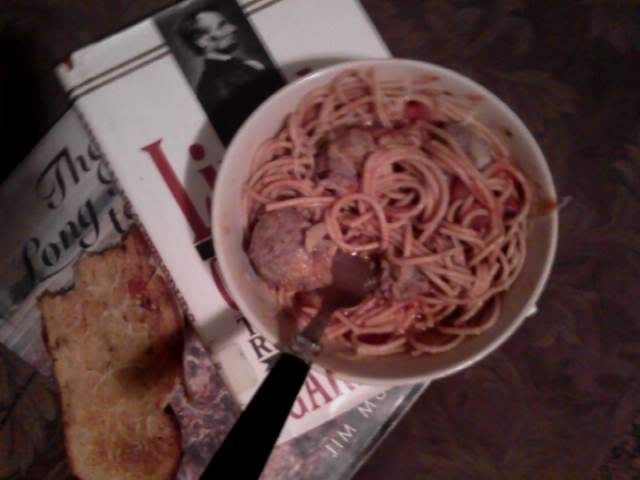 Just a minute ago I was at puh puh PANASIA with Matt it's that new place downtown, it was more romantic in there than we expected and more expensive and my shrimp pad thai was pretty boring I'll probably never go there again.
Yesterday was the 145th anniversary of the Gettysburg Address. In honor of the occassion Juli invented the pun 'Spaghettisburg Address' and had a party about it in Utah, and I read the speech outloud several times and made some spaghetti. It was the best spaghetti I've ever made because I made meatballs for it. A hundred times better than those meatballs I made for the first inaugural Spaghetti Monday way back on Fremont if any of you remember that. For the meatballs I had to chop up some garlic which I had never done before and I guess I had never thought about what garlic is before or maybe never even seen garlic except for like hanging in ropes from ceilings in ummm fake Italys. What garlic is is a little onion, made out of like ten even littler onions all shaped together like a pinecone.
Ty -- November 20, 2008
Someone on the internet made a comic about a hamburger turning into a toilet, I really relate to it.
Ty -- November 17, 2008
Harlow's has really good cheeseburgers too. Riders of Foodhan. Last night, or some night anyway, I dreamed that I had a job and I didn't understand what I was supposed to be doing. So I started wandering around the building and there were puppies in the hallway, and people carrying rifles. I found a room that was a kitchen and there were lots of little machines in there, keeping some cheeseburgers warm. When I lifted the top bun off one of the cheeseburgers, mushrooms grew up out of the meat and out of the cheese and out of the bottom bun. They looked more like little plant sprouts than mushrooms but I knew that they were mushrooms and that they were made out of meat and cheese and bread and that I had discovered a whole new kind of science.
A couple weeks ago I planted some pumpkin and squash seeds in styfroam cups in my window and now they're starting to come up. They're growing pretty fast and they're gonna need a lot more room than little cups and it's obviously way too cold to just put them in the ground outside, so I'm thinking about filling a plastic swimming pool up with dirt and putting it in that room that's not my living room. I wonder if that would work. If I live in this house for another year I'm gonna build some raised beds and have the biggest garden in the spring.
Ty -- November 17, 2008
Food day at work: chili in my whiskers, cornbread in my keyboard.
Ty -- November 14, 2008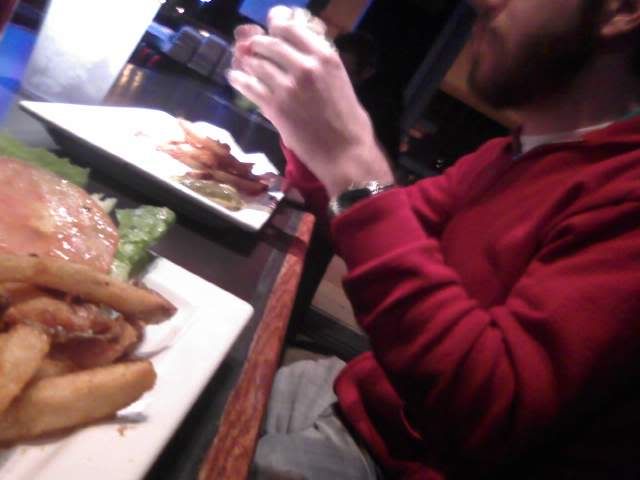 I just went to Grad School with Matt, they have REALLY GOOD CHEESEBURGERS. The only place I can think of that's maybe better is Taylor's. They're completely different kinds of burgers though. Last night I ate at the Mudhouse with my uncle Jimbo and some guy he works with and it was good and normal like always. The night before that I went to Pizza House with Aaron and Hayley and then we went to Andy's and then I felt sick all night. Pizza House was good but thin crust pizza is really confusing to me, I think normal crust is so much better. I feel like thin crust people wish pizza didn't even have a crust. Right now I'm at the library and some guy with a guitar is playing a lot of good songs about fishing, sometimes Springfield is the best place to live.
Ty -- November 13, 2008
My favorite thing to make lately is breakfast sandwiches for every meal.
I heard on the radio that the farmer's market is still going even though it's November now. So I tried to go this morning cuz I thought it would be fun to be surrounded by a lot of strangers wandering around in a freezing parking lot. But when I got there there was hardly anybody there and it looked too private and desperate for me to even get out of my truck so I just drove off. I drove all the way across town to Askinosie and got some really good chocolate. The one from Ecuador this time - it was good but I think I like the Mexico one a little better. They're sort of famous and important in The World Of Chocolate but no one in Springfield ever talks about them. While I was over there I also found out where Pizza House moved to. I never went to the old Pizza House because the only person I ever mentioned it to was Shannon, who said she used to go there a long time ago but it was closed now, and I believed her because it always looked closed. But then a month ago when their landlord kicked them out everyone was suddenly saying it was the best pizza place in town. So I really want to go get a pizza there so someone go with me.
What else I want to do is have a store that sells books and locally grown vegetables and has batting cages out back. And also kicking cages. I just invented kicking cages just now, they're exactly like batting cages except the machine rolls kickballs to you. Wouldn't that feel good!
Ty -- November 8, 2008
Yesterday Brett saw me standing around in the fruit section at the grocery store and said "PLEASE tell me you're just here to buy a single pomegranate." But I wasn't I was buying a pizza too. I want to do what people want me to do but I have to do what I'm actually doing. Brett is a good person to see at the grocery store because he just says one thing to you and then walks away. Later I wondered why either of us was even at that grocery store, because we both live a lot closer to different ones.
This morning I went and voted and then went to Burger King. I got a croissanwich and a big coffee and wished I would have written in Wendell Berry or David Berman for president. I wished I hadn't gotten the coffee either. It was the first time I'd had any coffee in a really long time and it made my stomach hurt and reminded me of cigarettes and being 22. I feel like I've read so many articles that start out like "You will be just be SHOCKED to hear that the top three foods that Americans eat the most of are coffee, white bread, and hotdogs!" But it's not that shocking and I never eat any of those things except some hotdogs in the summer. My mom used to always say that white bread was made out of glue but I didn't care or believe her for a long time but now I do. It's not really made out of glue though, just a lot of chemicals. I used to imagine it being made out of ground-up horse hooves because that's what glue's made out of. And I would always think about one of the really sad parts in Animal Farm. I don't know what kind of bread to get anymore though because all the bread at the grocery story is made out of chemicals, and bread from the farmer's market or that place downtown or whatever is really good but it's too soft and crumbly to use for sandwiches. Last night at the grocery store I saw something called Woman's Bread and today I looked it up and the same company also makes Men's Bread. The masculine bread has won more awards.
Ty -- November 4, 2008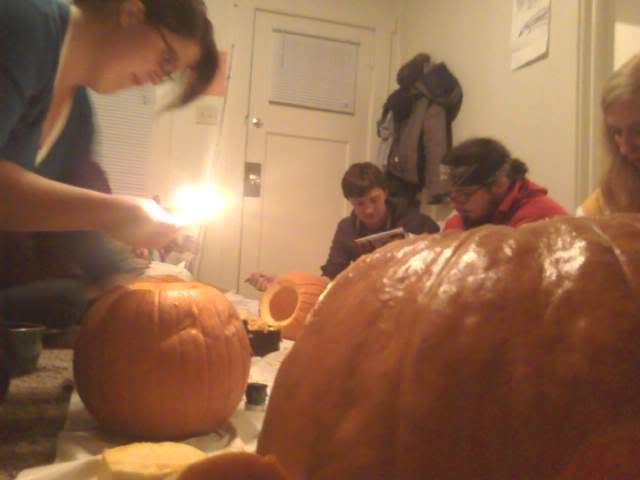 Right now I'm drinking a Dr Pepper because it was 89 cents and you can win a football and Gatorade and Vitamin Water both cost like a dollar more and because I guess I like Dr Pepper now. I didn't win anything though.
I tried to make some cookies to eat during pumpkin carving but they weren't very good, they were like little chocolate chip mountains. That sounds kind of good but they weren't. I tried another batch, smaller and thinner this time, but they were still no good so I just ate all the rest of the dough. Yesterday I went over to Willis and Nadine's and they gave me a box of stuff from my grampa and gramma and there were some way better cookies in there.
This morning at the farmer's market I got some more apples and bread and a spaghetti squash. When we were carving pumpkins Alyson told me the right way to cook spaghetti squash so I'm gonna try it again. I love going to the farmer's market, my strategy is to only buy stuff from pretty girls and guys with beards who talk kind of weird. Today might have been the last farmer's market of the year though, everyone was telling each other to have a good winter.
Ty -- October 25, 2008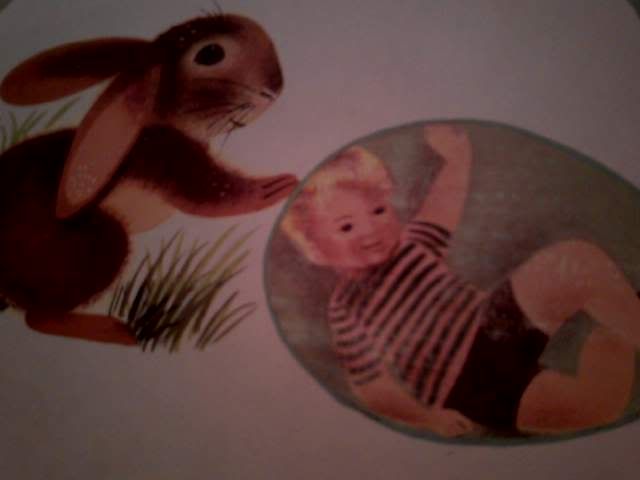 I ran out of cereal and didn't want to go get more so this morning I got up a little early and made some eggs for breakfast. Every time I crack an egg open I am briefly sick and terrified because what if a partially developed chicken falls out of there with sloppy feathers and tiny claws and tiny beaks. Why do chickens come in eggs anyway, and why don't humans. Because chickens have more calcium in their diets and so when a chicken is pregnant their placenta gets really hard and turns into an egg. But how does the baby chicken get any food in there, with no umbilical cord. Because it's kind of like hibernating maybe. A couple days ago at the DAV I got this book, The Golden Egg Book. It's about a bunny who finds an egg and he knows something's in the egg but he can't get the egg open and then he takes a nap by the egg and while he's asleep a duck comes out of the egg and then they're friends. The strangest and most emotional part of the book is right after the duck comes out of the egg, there is a picture of him remembering being in the egg and he says "When I was inside the egg, I thought I was alone in a small, cold duck world. But now I find myself in a large, bright world, with a bunny who won't wake up."
Ty -- October 21, 2008
When I was asleep I invented lasagna pizza. I suspect this is something that has already been invented and has a different name and is a fairly common food and that I've had it and didn't like it very much, but at the same time I suspect I have imagined something that will revolutionize the way we eat lasagna. Lasagna pizza: the lasagna you eat like a pizza. You can hold it in your hand because it's a triangle and the bottom layer is pizza crust. Thinner than normal lasagna, thicker than normal pizza: lasagna pizza.
Pizza and apples is all I eat. In the last week: pizza at South Ave with Brett, pizza from Papa John's, Kashi frozen Mediterannean pizza, really good pizza at work, pizza at South Ave with Brett and Will, pizza at South Ave with Will and Colleen. And apples: a bag of Fujis from Washington state, a bag of Fujis from Washington, Missouri, a couple green apples from some farm, a couple Jonathan apples from some farm, an apple at church, two Japanese apples from a different farm. I've been picking out the apple seeds and throwing them all over town or putting them in my pocket and taking them home to put in cups of dirt and cups of water and inside little plastic bags in the fridge. I buried two apple cores in my yard. I wasn't trying to be like Johnny Appleseed, I was just doing stuff I wanted to do and later on I remembered him.

Ty -- October 18, 2008
Last night was the vice president debate so Sarah Palin and Joe Biden finally got to meet each other and wink at each other. Daniel Zender made some good shrimp pasta to eat during it. Neither candidate said anything about food during the debate, but Palin has already said that she likes to hunt moose and make them into mooseburgers, which I think is cool, and that she likes to pay people to hunt wolves in helicopters, which I think is stupid. The hunters are in helicopters, not the wolves. If the wolves were in helicopters then we would have to hunt them. But we wouldn't be hunting them we would be at war with them. Seventeen years ago I had a dream about a wolf who could walk on his hind legs, and when he walked up the street to our church and opened the door and went in there I was so scared I woke myself up. Last night I dreamed there was a giant wall with a giant diagram of seeds and they wanted me to pick which seeds would grow into the best things to eat because we could only bring seeds where we were going and there was nothing there and we weren't coming back.

Ty -- October 3, 2008
After work today I went to the grocery store to get some boil-in-bag brown rice, which if I know how to do percentages has become 60% more expensive than it was like a year ago when I first started getting it all the time. At the grocery store I saw something new: Genesis 1:29 Bread. There's already been Ezekiel 4:9 Bread for a long time. I went home and looked it up the first time I saw it. The Ezekiel verse says "Take wheat and barley, beans and lentils, millet and spelt; put them in a storage jar and use them to make bread for yourself. You are to eat it during the 390 days you lie on your side." So some people decided to make some bread out of those ingredients but only put the first sentence of the verse on the package because it would seem too weird if they put the whole verse. And it IS really weird. If you read the whole chapter it's from, God tells Ezekiel to make a clay model of Jerusalem and lay next to it for 430 days and that bread up there was what he was supposed to eat while he layed there. And he was supposed to cook the bread over a fire using human poop for fuel, but Ezekiel told God that was too gross, so God was like, fine, you can use animal poop. The whole thing's symbolic of Israel being defeated and taken to Babylon and eating illegal food there, and I love it, I love how bizarre it is, but it seems like a strange way to market bread. And I don't even understand the Genesis bread, it's verse just says "Then God said, "Behold, I have given you every plant yielding seed that is on the surface of all the earth, and every tree which has fruit yielding seed; it shall be food for you." And then they just made some bread out of a lot of different kinds of seeds. I might get the Ezekiel bread sometime, and make a clay model of Springfield and eat a sandwich while I lay next to it. Everyone should make a clay model of the town they live in.
Back to vomit blog: Today I was thinking that puke is the only bodily fluid that I couldn't remember being mentioned in the Bible, but then I remembered that thing in Proverbs about a dog returning to its vomit. My goal is to not throw up all month.
Ty -- October 1, 2008

From now on this is a blog about throwing up: last night was too disgusting to ever tell anyone about.
Ty -- September 30, 2008
Friday night was Riders of Rohan's one year anniversary ride, so I had tons of free cheeseburgers and vegetables and pita bread and hummus. And champagne. Then the next day I went camping and had two hotdogs and two corns and like twelve smores, and also drank a can of pork n beans which I think everyone else thought was stupid and disgusting, but that doesn't matter, it was good. For breakfast I finished the bag of marshmallows. I don't like Lucky Charms or any other marshmallow cereal that I can think of very much, but plain old white marshmallows is a great breakfast. Then we went tubing and after tubing we were in Van Buren, so we went to Jolly Cone. I had a delicious double cheeseburger and a chocolate shake. Will Andree got a Jolly Burger, which I sort of regret not getting. A Jolly Burger isn't a burger, it's like a sloppy joe with cheese and sauerkraut and other stuff. About a month ago I realized I love sauerkraut. When we got back to Springfield I accidentally left my phone in Jessica's car and all day I've been feeling helpless and kind of panicky without it.
Ty -- September 29, 2008
Me and Joel and our mom and dad went and ate at Sir Winston's, it was the funnest meal. I thought about trying to force everyone to order a different one of the Winston Churchill-themed dinners, but I realized I didn't even want one of those, I wanted a chicken-fried steak. I had a chance to try a kind of pie named after Jefferson Davis, but I refused to do it and I regret that now.
Ty -- September 23, 2008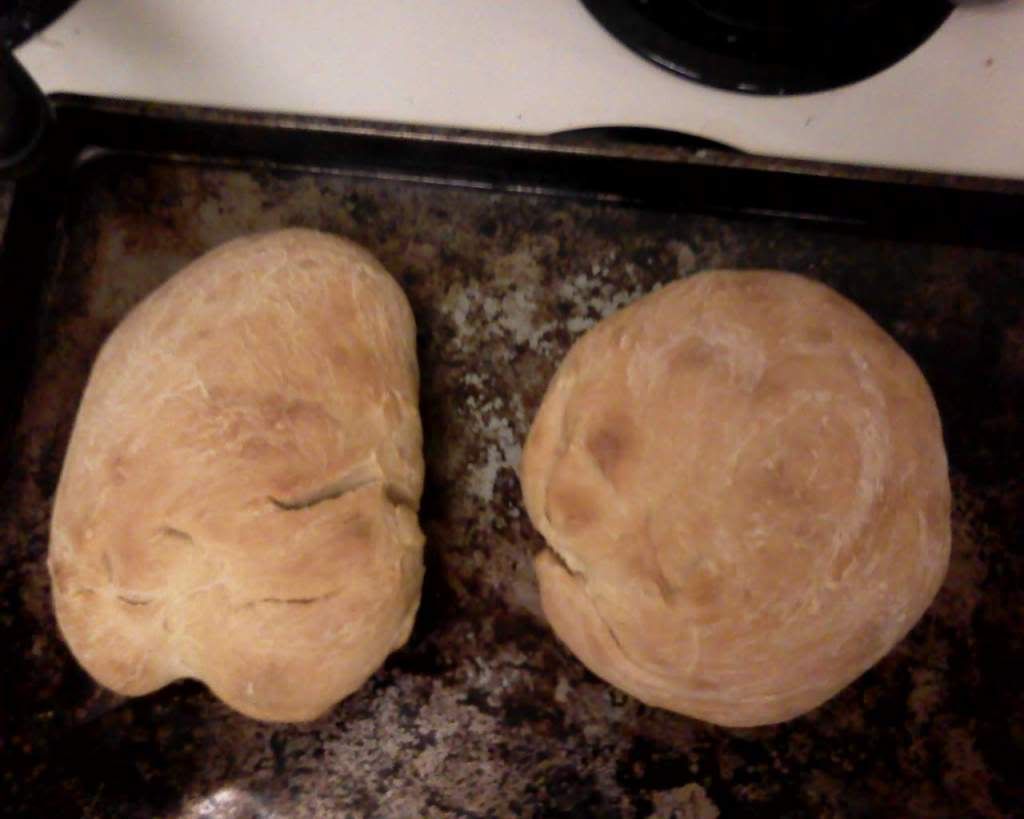 Well I made those two loaves of bread right there. All you have to do is mix together a little flour and water and let it sit in your kitchen for four days and then yeast comes out of the air (what is yeast, why is it floating in the air, what did it do before bread was invented) and goes into your dough and then you add more flour and bake it and it turns into bread. Really hard, heavy bread, like they ate in the Old Testament and Middle Earth and middle ages. I had four bites of it and was exhausted and had to go to bed. But it was GOOD and I can't believe how easy it was to make something as real and basic as BREAD, I feel like I understand the whole history of the world and everyone who's lived a lot better.
And I've always liked Wendy's a lot but a while ago I quietly decided to never go there again because their chicken nuggets went from 99 cents to $1.29. I've got Gilmore Girls on dvd right now though, and I've been googling Alexis Bledel a lot and even if her character is ten years younger than me in the first season, in real life she's two years older than me so it's alright it's not creepy at all, TRUST me. Anyway I found out she likes Wendy's chicken nuggets and Hi-C and maybe she's hanging out in the parking lot at the Wendy's on Sunshine and Campbell, just waiting for someone to order her favorite combo, so that's what I've been doing.
Also Joel I'm not ignoring your kiwi question, I'd just rather answer it in real life. See ya tomorrow.
Ty -- September 21, 2008
Tonight I will be eating a mix of Kansas City BBQ at our rush event: Arthur Bryant's, Gates, and Jack's Stack I think. I would normally be excited but last Thursday I had Arthur Bryant's and got sick. It didn't make me sick - I was just already sick and then I ate too much. So hopefully I have better luck tonight.
I had kind of the same problem as you when I worked as a cashier at Sears and Gerbes. If I made some mistake like forgetting to ring something up it was hard for me to really care. I wouldn't do it on purpose, but I'm sure I gave some people some pretty good deals and accidentally overcharged some people too. Almost every grocery store has an alarm system so I doubt you could get away without someone noticing. I'm sure the lime idea would work though.
What happens to kiwi when you cook it?
Joel -- September 18, 2008

Aaron and Hayley acted really skeptical about the concept but I made some kiwi bread anyway. It tasted pretty boring but I still want to try mango bread.
Every time I go to the grocery store I always have a huge moral crisis. Last night I thought it would be so easy to just casually walk out with my orange juice without paying for it, and I wanted to see if it would work. Also I though it would be really funny if I held the orange juice under my arm like a football and ran out of there as fast as I could. And I usually do the self-checkout lane and want to type in that I'm buying something really cheap like limes, instead of something expensive like the big avocados. They would never know! And I'd only be hurting a giant corporate grocery store, who cares! But I never do it but not because I'm too scared to.
Ty -- September 17,2008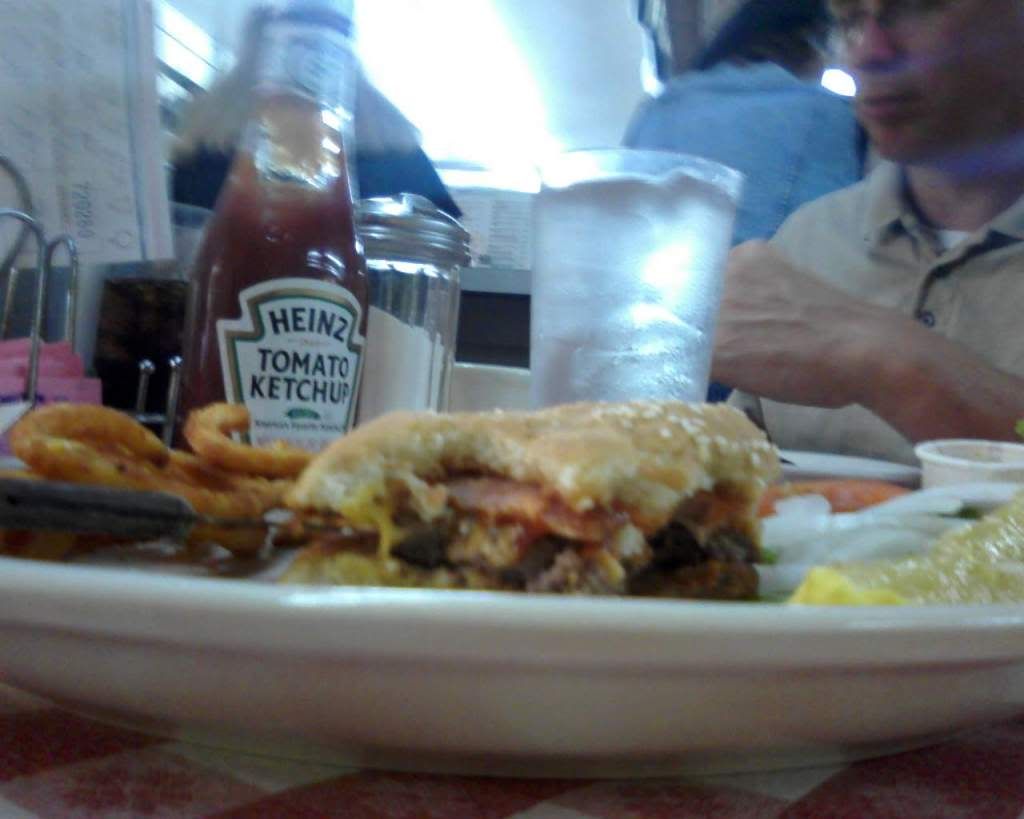 I ate at home all last week, had pounds and pounds and pounds of green beans, and rice and spaghetti once or twice, and then over the weekend I went to I think nine restaurants. My favorite thing I had was the Cuisine Deluxe at Anton's. It was the first time I had had non-breakfast food at Anton's and the first time I had had a cheeseburger with ham on it somewhere other than Taylor's. The ham was like an actual thick slice of ham not thin n crispy like at Taylor's, but I'll still go to Taylor's for their milkshakes when I can but they're never OPEN. None of my favorite places in Springfield are ever open. Also I think the mushrooms I had at trivia last night made me sick, so I'm sticking to onion rings from now on.

Ty -- September 15, 2008
There was no beef jerky tent the other day. But there was a tent for an experimental fruit program, and when I asked the guy in there for both an Ozark Golden apple and a Gala instead of just one or the other, he asked what that book I was carrying around was, and I was embarrassed to have to show him that I was reading a book about fruit. We talked about some things, and he told me I should go back to school and get my masters in fruit science, and I told him I would think about it but I already did and I won't. After that I went to Smokey Joe's for some bbq. Everything I've had there has been great, and right now they're trying to decide if they should stay open past November, so you ought to start going there twice a week. Corner of Bennett and Glenstone, in Smillie's parking lot. I took home the sandwich I got and while I ate it I pretended to watch football on tv, but I was actually reading a story.
Ty -- September 8, 2008
The library got me another book - What Would Jesus Eat? It basically says what everyone says, which is that you should try not to eat chemicals. Also you should ask yourself two questions before you eat anything - "Why do I eat this?" and "Would Jesus eat this?" It doesn't say anything about fasting, which I think is dumb, even though I also think fasting might be dumb. It looks like I'm fasting today, but not on purpose, and it's still only 3 o'clock. All week I was planning to go to the farmer's market this morning and get peaches and steaks and beans but then I threw up all morning. The way I know I'm done throwing up is I throw up something that looks like an egg yolk. I've always assumed that it was bile, but what if it really is an egg yolk? I'm allergic to eggs and my body stores up the yolks and then I have to throw them up. In just a minute I'm going to go to some Ozarks Festival and hopefully get some food. Last year I remember I got root beer and I think some honey, but what I want them to have is a tent full of beef jerky.
Ty -- September 6, 2008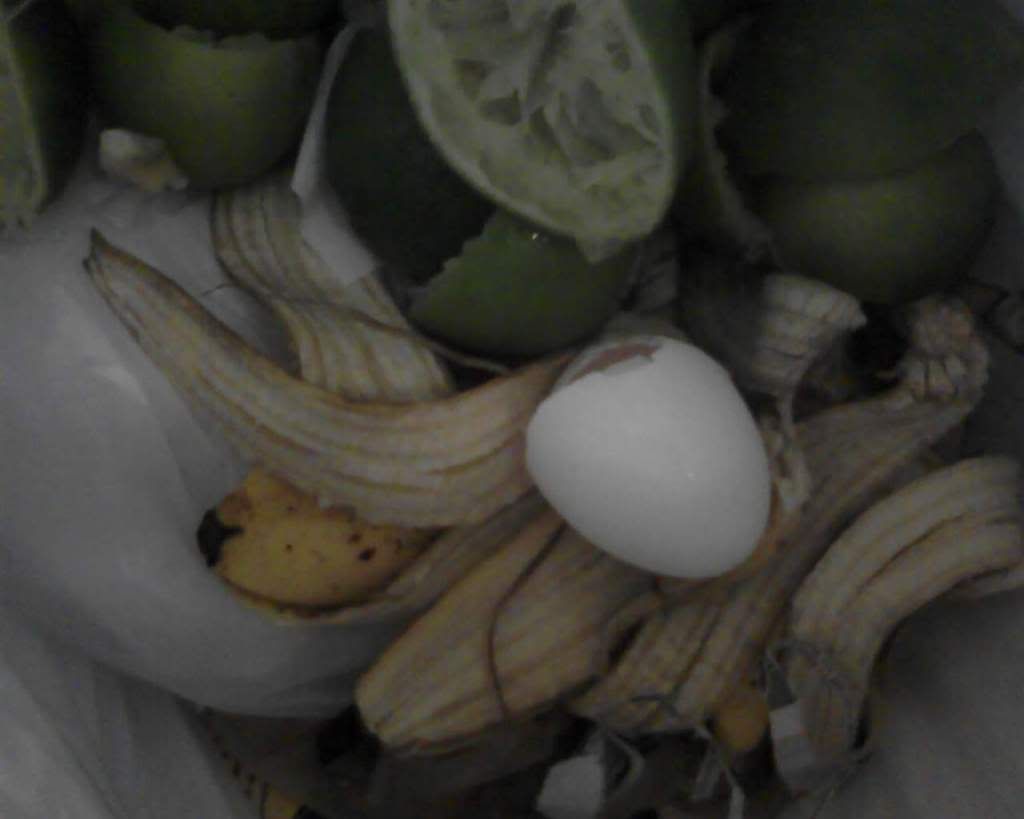 By the time I remembered my Labor Day tradition of watching the parade and then sneaking into the Union Members Only picnic the parade was already over, so I just sort of sat around all day and made limeade and banana bread. If anyone in Springfield wants a loaf of banana bread you can have one, I made a lot. Also in a chapter of The Fruit Hunters called "Adventure" I found the following paragraph:
Roy Danforth and Paul Noren are Christian missionaries who have set up a tropical fruit preserve in the Ubangi region of the Democratic Republic of the Congo. Their Loko Agroforestry project is devoted to preservation and reforestation, primarily with fruits intended to provide sustenance. I considered visiting them, until I read reports from otherwise staid botanists explaining that traveling to this source to interview them would entail hiring a helicopter gunship and a personal militia.
That's where we used to live! I knew those guys! I don't know what's going on over there right now, their webpage hasn't been updated in almost eleven years. There's probably people I could ask.
Ty -- September 2, 2008

I don't believe you ever really hung out in guava trees that much, but I don't remember so whatever. This has been an interesting food week for me because I am back at college, but the cafeteria is still not open yet for some reason. I have been going out to eat for almost every meal and spending too much money. I also got some food at Price Chopper to try to save some money. It is a better grocery store than Gerbes where I worked. I bought 3 locally- grown peaches for 99 cents, but one normal pear at Gerbes is $1.39. I got some orange-flavored Shatto milk too - it's kinda gross, but it's really good if you don't think about it. You are supposed to buy imported fruit directly from African farmers or wherever they are - not the grocery store Ty.....duhhhhhhh. Not really, but if I find out what you're supposed to do or meet an international farmer I will tell you.
Joel -- August 30, 2008
I have been eating a lot of fruit this week, mostly mangoes and peaches, and last night I started reading The Fruit Hunters. It's by a guy who used to edit Vice magazine, and he's not a very good writer. But I'm learning a lot and thinking a lot, and wanting to go to every country and eat every kind of fruit. There's only about twenty kinds of fruit - mostly varieties of apples - in most U.S. grocery stores, and there's thousands of kinds that most of us has never heard of, and it's just a fact that there are types of fruit in the world that no human has ever eaten. In Africa I used to hang out in guava trees, knock over banana trees to build forts, overhear long discussions of mangosteen expeditions, lay on top of a truck and pull down passion fruits, chew on a starfruit while staring at the rabbit hutches behind my dad's office. Mangosteens were just legalized in the U.S. a couple months ago I think. Passion fruit is pretty famous, I mean everyone's heard of it, but I bet there's no way to get it in Springfield. They don't have it at any grocery store I've been to, and it's not like there's gonna be people growing them and selling them at the farmer's market. There's not like a secret fruit store I don't know about, is there?
Ty -- August 30, 2008
Today was Potluck Day at work and I felt bad that I didn't know about it in time to bring anything, but not bad enough to prevent me from eating piles and piles of corned beef. I guess I need to get a crockpot because I don't want to eat anything but corned beef for the rest of my life.
Ty -- August 26, 2008
On Saturday morning I went to the farmer's market and got some Amish strawberry jam. Or Mennonite jam, I think Mennonite. As I was leaving I saw Phil and Grace and Phil gave me a cd. I went home and made some sandwiches with the new jam and listened to the jams on the cd. Then I went and saw The Adventures of Food Boy and made Knathan come with me. The movie was unbearable, maybe the worst I have ever seen. It was about a kid who one day realizes he is able to make food come out of his hands but there was nothing about Jesus and nothing about puberty, what were they thinking.

Then last night I smoked a cigar and everything I ate today still tasted like it. I had some of those wild cherry M&Ms finally and they were better than I thought they would be, but maybe just because of cigar-mouth.
Recent sandwiches:
grilled swiss cheese with portabello mushrooms - YUMMMMM

turkey & swiss cheese & cream cheese & avocado - zip it up in a sandwich bag and leave it in a hot truck for four hours so everything mushes together YUMMMMM

Ty -- August 25, 2008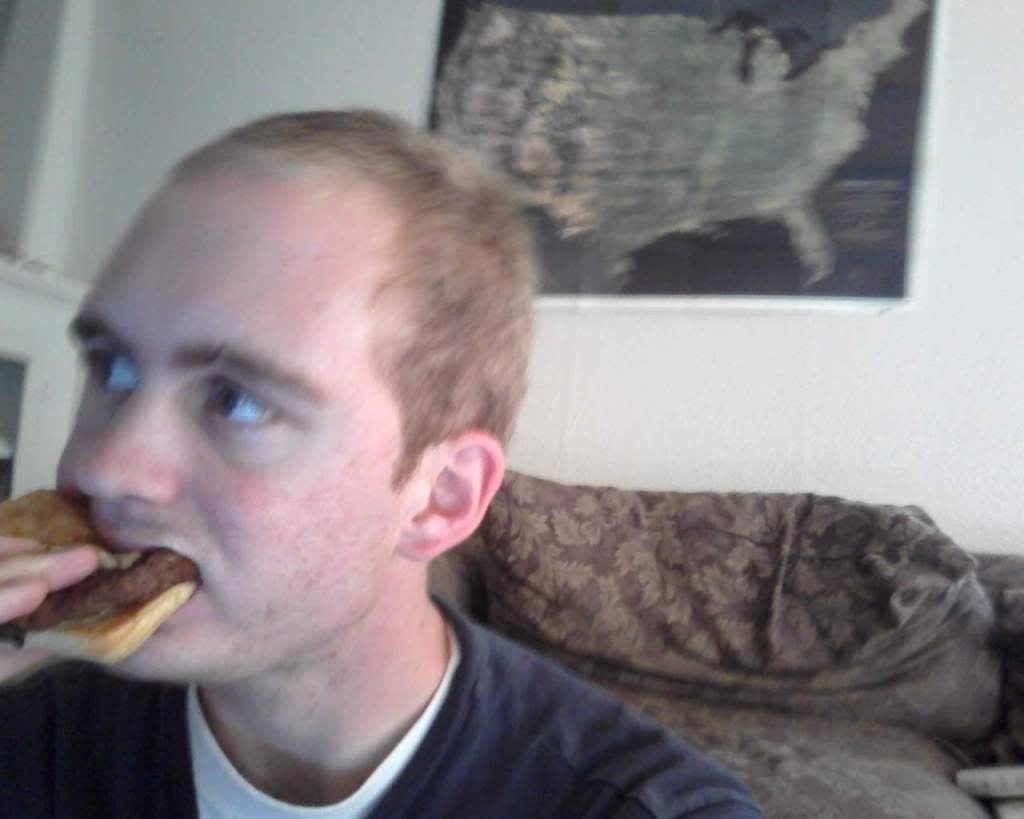 After work today I wanted to get pizza but no one would go with me. Actually I barely asked anyone. I went to Hardee's instead and got their prime rib burger or whatever, you know, the one where the guy thinks he's in the fanciest restaurant but he's actually in a Hardee's that has tablecloths. It was a good burger, Hardee's definitely has the best fast food of a national chain, but I couldn't finish it cuz I guess my stomach isn't used to fast food anymore.
A couple days ago I tore up my dead bean plants and mowed over the dirt where they used to be. The leaves on the cucumber plants are all brown and shriveled up now, and the cucumbers that are still on the vine are all squashed and bulbous and yellow which I think means they're dead. So I didn't have a very successful garden. I'm still planning on planting some spinach this weekend though, and maybe trying to have an herb garden in my window. I don't know anything about herbs, but the famous cookbook that my parents got me for my birthday is very insistent that fresh herbs make everything better, so the other day I rubbed some uhhh rosemary and thyme on a steak (because I had heard of those ones in that Simon & Garfunkel song) and the book was right, it tasted good. The mushrooms were still better than the steak though, I really need to get better at picking out meat.

Ty -- August 21, 2008

For lunch yesterday I went to King Tamale with Will and Colleen. If I had realized that was the name of the place I would have gotten tamales. I got tacos though, they were good and I wanna go back and get tamales. Later, after trivia, I rode bikes to the grocery store with Knathan and Jeff and DZ. DZ has a new trike with a huge basket on it. I got in the basket and Alli gave me a ride in it, but the real point of the basket is to fill it up with groceries, specifically corn and bratwursts and Gatorade. I had my first ever cheese-infused brat and it was a good thing I didn't know that's what it was or I probably wouldn't have eaten it, but it was actually really, really good. Beddar Cheddar, I think it was called. Thanks Jeff.
Ty -- August 18, 2008
Could someone please start an Ethiopian restaurant in Springfield so we feel a little cooler about ourselves. Also a place downtown with really good and cheap tacos and burritos. And if someone could start a street fashion blog.
Ty -- August 16, 2008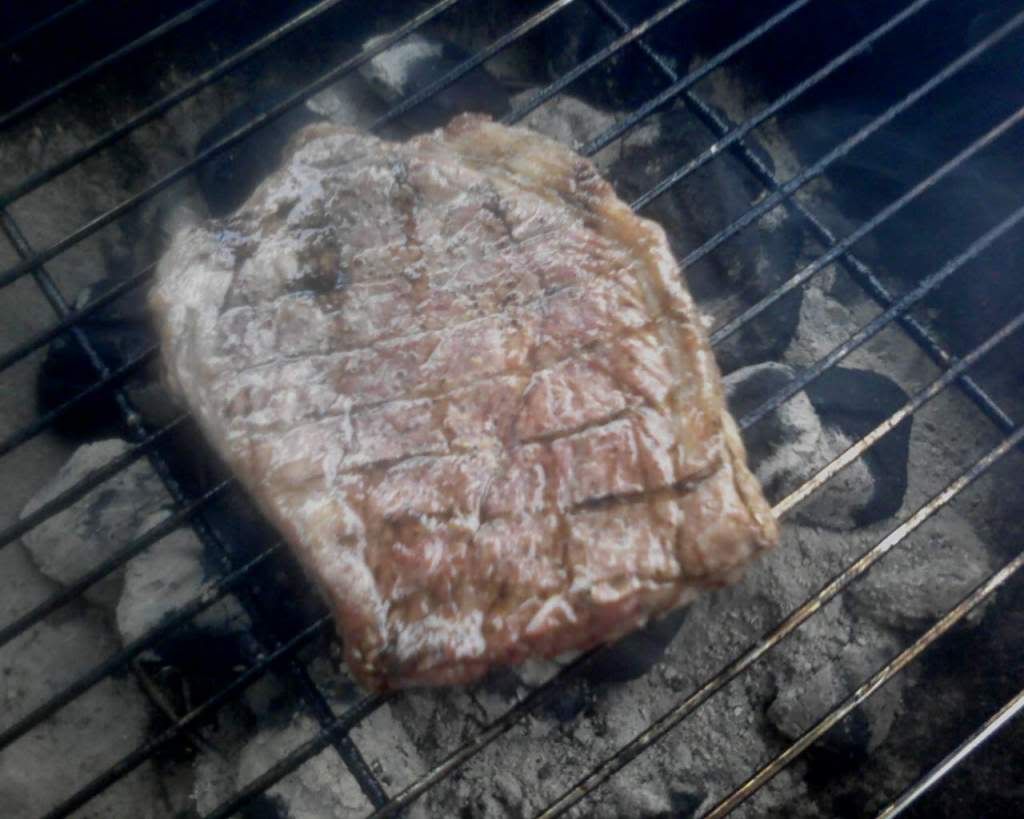 A long long time ago I was at Harlow's with Will and Jen and Alyson, and Jen told how her dad used to always cook patio steaks and that was still the only kind of steak she liked, but none of us believed there was such a thing as patio steak and no one in the whole town believed her either. She also told how one time she threw up and her dad reached out and caught her throw-up in his hands, which is something I think about a lot. Earlier this summer someone found a patio steak for Jen, and then last night I had a patio steak of my own. On my porch though. Patio-porch steak. At this point I wanted to put a youtube of that extremely classic Beef It's What's For Dinner commercial, but I can't find it! Instead here is a short commercial about Missouri beef:
Someone left a comment on that video that says In this day and age, people that consume beef are enviromental terrorists, have no self respect, and don't care about world hunger among other issues. Look it up, read a little!. I know its inconceivable, and it will trigger denial, but it's a fact. Deal with it and do something about it. No one has given that comment a thumbs up or a thumbs down yet, and I only know a little about that kind of stuff. I mean I have SOME self-respect.
Ty -- August 15, 2008
How can you eat that for breakfast? Weird. That's too bad about the milk. The best place in my grocery store is the back room where all the milk, produce, and eggs back stock sits. It's much colder and quieter than the rest of the store. My least favorite section is probably the spices because it is all so little and there's just hundreds of them.
I bought some fried chicken at the deli today. I didn't want any sides but the lady working back there seemed to really want me to get some. I asked what was good and she said very unconvincingly, "Everything is good at the deli..." My only real options were onion rings and fried okra so I got those two but I had to throw most of it away. The chicken was okay though.
Joel -- August 13, 2008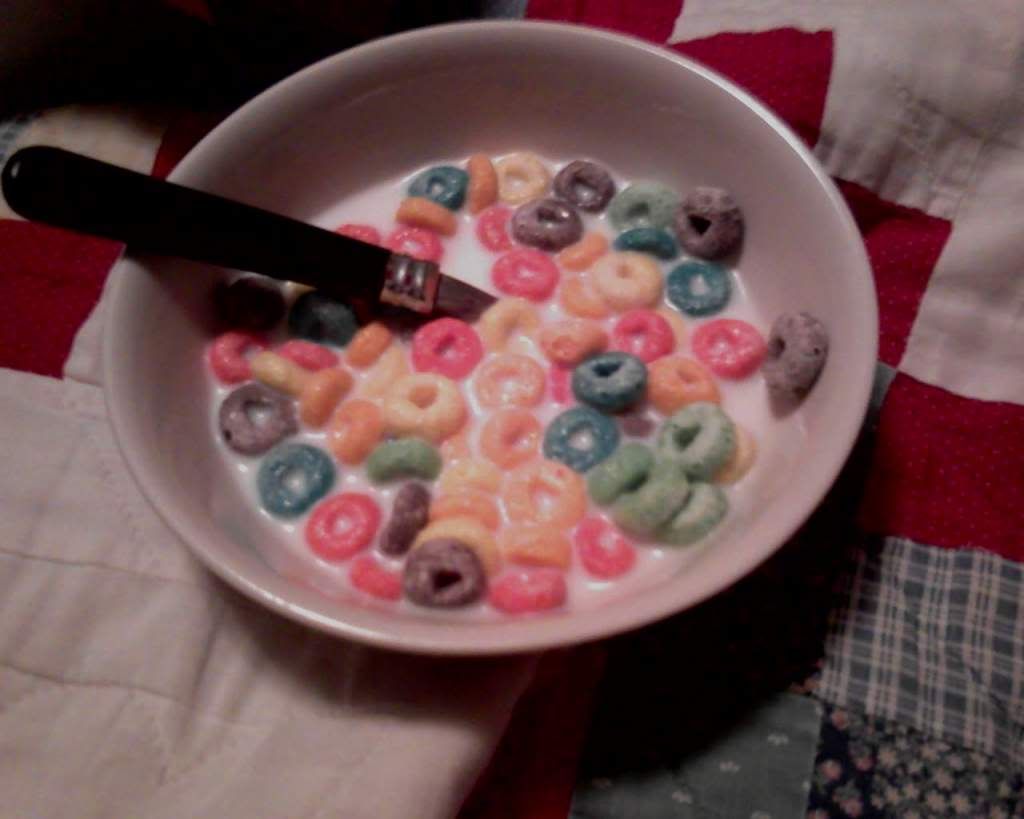 Last night I went to the grocery story to get some milk but didn't bring quite enough money with me. If I had brought like twelve more cents I could have gotten 2% but instead I was forced to get 1%, what a disaster. Luckily I hardly ever drink milk anymore, I mostly just put it on my Tootie Frooties in the morning. Tootie Frooties are the fake Froot Loops you can get at Price Cutter for a dollar a box.
Ty -- August 13, 2008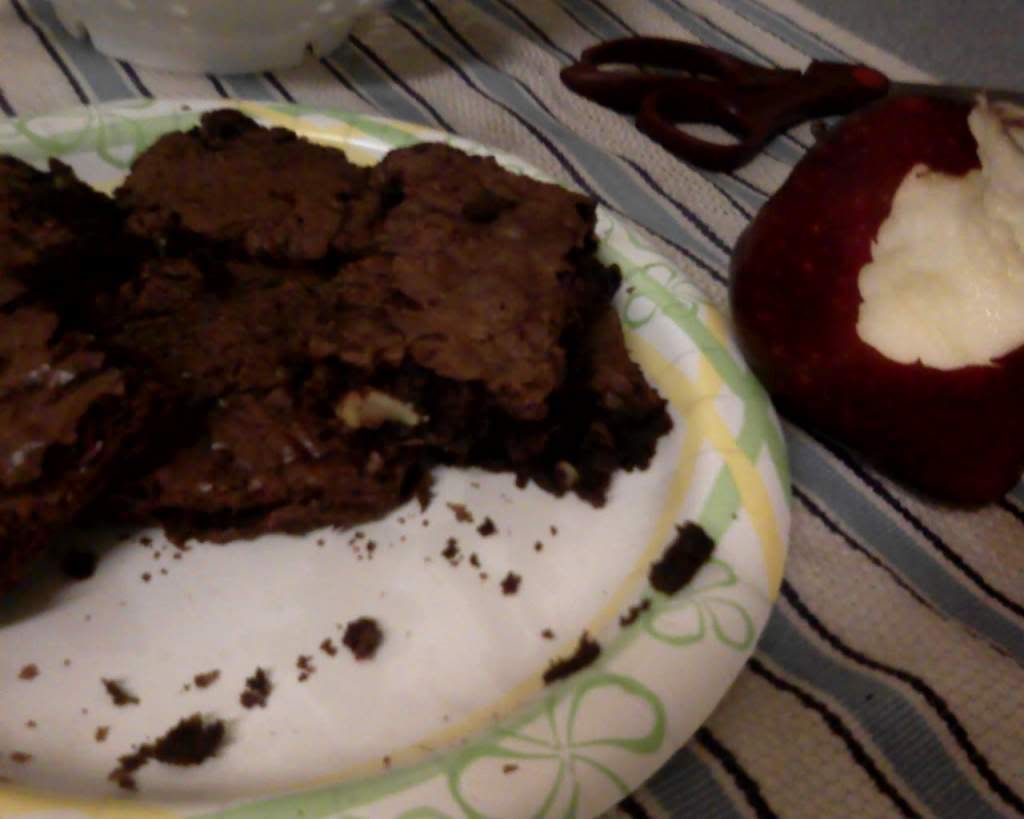 Got some brownies at a bakesale (LLOL) but I didn't realize they had NUTS in them AUUUUUUUHHGGHHHHGG I HATE WHEN STUFF HAS NUTS IN 1T

Ty -- August 12, 2008
No Joel, you are doing it right you are doing it perfect. Over Christmas break I read your food journal for that class, it was really funny and part of what made me want to do this blog.
Good news: this morning I was able to take communion without thinking about the food blog. But it was mostly because I was at a different church than usual and kept panicking about everything that was going on.
Shortly after communion I was at Perkins with Grampa and Gramma. I ordered a chicken-fried steak but they were out. What in tarnation!! I didn't say that out loud but I should have. Instead I ordered a non-fried, non-country steak. While we were eating, Grampa started talking about how he thinks you shouldn't drink anything when you eat your meals. Gramma interrupted him: "NO! You can! It's FINE, I talked to Layne about it!" Apparently this is an on-going source of conflict for them. Grampa's theory is that saliva is one of the most important parts of the digestion process, and that if you drink milk or water or soda or whatever when you eat, all the spit just gets washed off your food and it doesn't get digested the right way. Huh.
While they were in town I also ate several meals at Grampa's brother's house. Willis and Nadine grow a lot of their own fruits and vegetables - we had tomatoes, cucumbers, squash, peaches, and beets. Beets are the summer's hottest vegetable, if you hadn't noticed. Everyone's talking about them: blogs, livejournal, magazines, the radio, even real life! Maybe next summer I'll grow some beets of my own. But what if they're not cool anymore next year. And also I seem to not be a very good gardener. All my green beans got brown and yellow this last week and died. I was watering them a lot, I don't know what else I could have done, it just got too hot. The cucumbers seem okay though. People used to really be farmers. Crop failure! Everything is real!
Ty -- August 10, 2008
It took me forever to remember eating at Mazzio's even though it was only five days ago. It's always hard for me to remember what I eat. For my Ecology of Food class last spring we had to do a food journal where we wrote down everything we ate and turn it in every two weeks. I couldn't remember to do it every night so the night before it was due I would just make up 80 percent of what I wrote down. It was hard to make stuff up too. Today at the grocery store where I work someone bought corn, but it was packaged and the stupid bar code was folded over so it wouldn't ring up. I finally just typed in the price and hit 'Produce' but it was still annoying. So try not to buy your corn in packages or with messed up bar codes. Am I just supposed to post like this or is there some way to reply to your post?
Joel -- August 9, 2008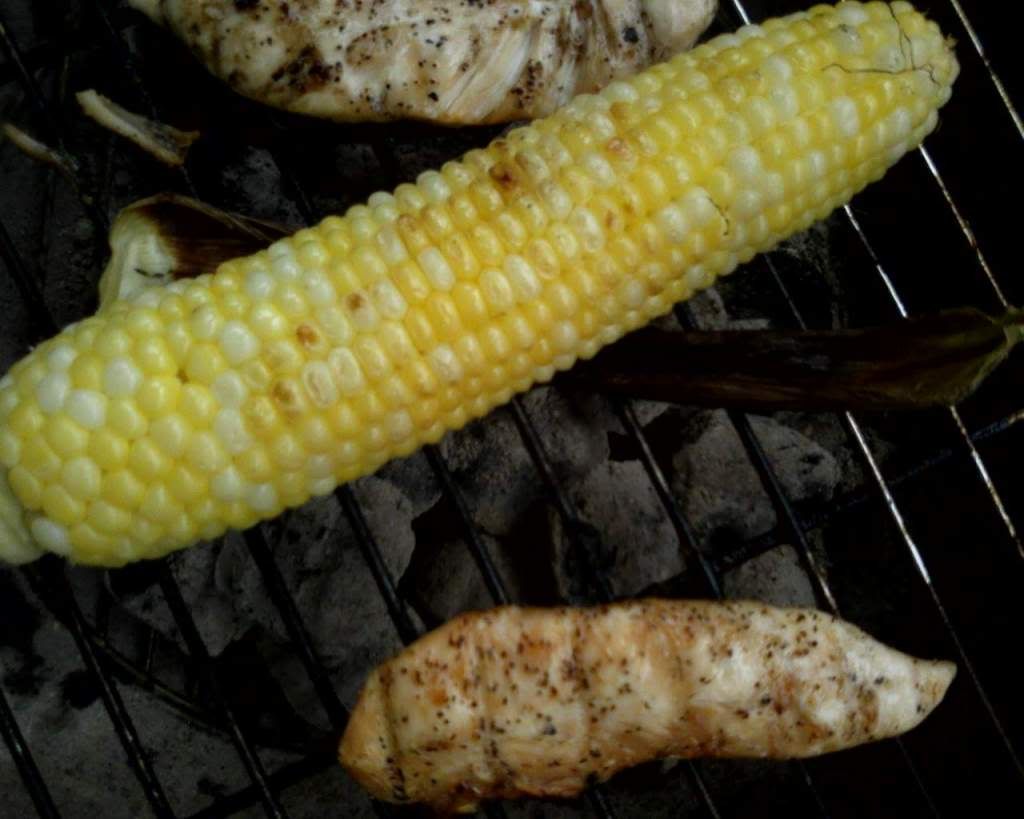 A couple days ago my uncle Jimbo took me to the ole Lonestar where we had some good steaks. Everyone from my family always wants to eat at Lonestar when they're in town, it's hard to say why. Once I went there with my grampa and gramma and grampa said it wasn't a place he would ever take small children; I decided not to question him about it. Grampa and Gramma are in Springfield again today, I wonder what will happen.

The night after Lonestar, I drove to Lebanon and met my mom and dad and brother at Mazzio's. I always imagine Mazzio's as being the most hilarious restaurant but in reality it is a very normal pizza chain. When we moved to Fulton a hundred years ago there was a Pizza Hut and a Mazzio's right next to each other. I don't remember if I loved that or thought it was stupid. Today I would love it. I remember the Mazzio's as having a weird chandelier, but it probably didn't. It closed after a while and tried to be several other restaurants but none of them could stay open. My parents are moving to California soon, so I need to go back to Fulton and go to some restaurants there while I still can. I'm really desperate to go to Sir Winston's as a semi-joke, but I don't think anyone will go with me.

Been having corn and chicken for lunch every day.

Ty -- August 8, 2008
I had a dream that I went to the Butternut Discount Bakery near my house and bought a loaf of bread that was alternating slices of wheat and white.
Ty -- August 7, 2008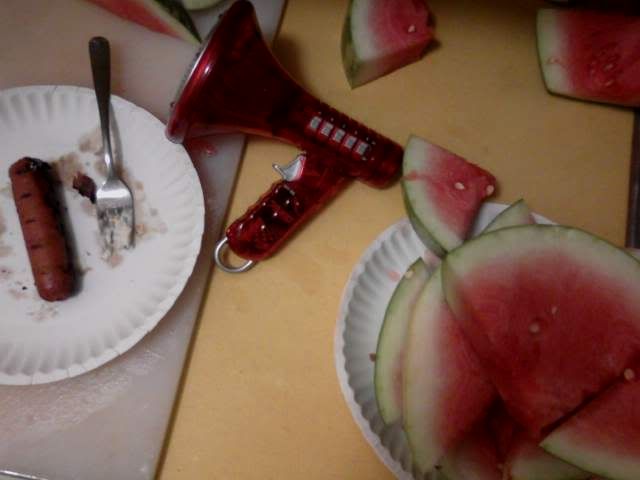 Last Sunday I took communion for like the third time in seven years, but I accidentally thought about this food blog during it. I hope that isn't too big of a deal, and I also hope that by writing this I'm not dooming myself to thinking about the food blog every time I take communion for the rest of my life. What else I have been thinking about is how one of the main things Jesus does in the Bible is eat and tell people not to worry about what they're going to eat. He's always eating with people and having people get mad at him for who he eats with. Once when I went to a monastery with Shannon and Dakotah the priest talked the whole time about how Jesus loved going to his friends' houses and eating lunch with them. I eat with my friends a lot and go to their houses pretty often but we hardly ever eat at each others' houses, we always eat at restaurants. The notable exception is BBQs and BBQs are everyone's favorite thing, so maybe we should all eat at each others' houses more often. At a BBQ the other night I grilled a lot of corn and it was so good. Maggie gave me a burger and it was so good, especially after I put some stuff on it. I don't even know what it was. Coleslaw? Potato salad? If you're ever at Daniel Zender's house eating a hamburger, I recommend finding some tupperware and putting whatever is in the tupperware on top of your burger.

Ty -- August 4, 2008
Eating at Ebbett's Field, eating at the fair, eating Quizno's in the alley, eating on Daniel's porch, eating at home, eating at home, eating at home, eating at home. For lunch today I made spaghetti. Spaghetti is the easiest thing to make and one of the best things to feel full of. I bet it would be so easy to make your own spaghetti sauce but the kind that costs $1.92 is good enough for me. After I ate the spaghetti I waited for Dakotah to wake up and realized I wanted to eat a lot of chocolate. There's supposedly a chocolate factory in town, but I don't know where it is and I don't know where to buy the chocolate it makes. One time I hurt someone's feelings by saying I didn't believe in the chocolate factory. I went to the grocery store, bought some Ghirardelli and a sweet potato. On the way home I realized what I actually wanted was a giant soda so I went to the gas station closest to my house. Lots of people were hanging out in the parking lot, drinking fruit punch from gallon jugs. SPRINGFIELD RULES
Ty -- August 4, 2008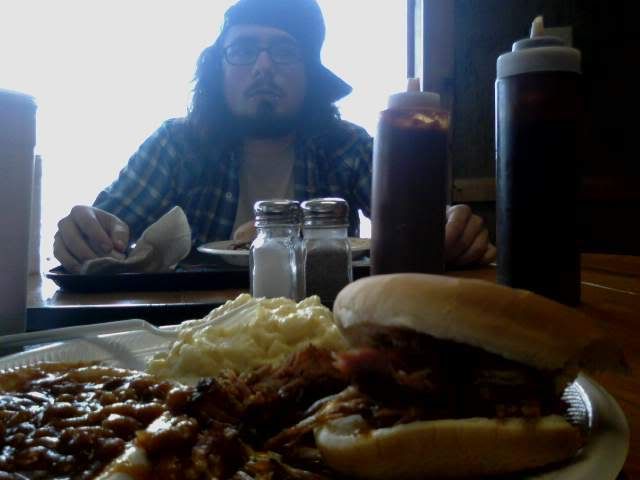 On the way to Barack Obama this morning, me and Knathan stopped at McDonald's and I had the first McGriddle of my life. Some girl had the first McGriddle of her life too. Everyone in the Obama line was eating McDonald's, except Natalie James, but luckily she got McDonald's delivered to her. After watching Obama me and Knathan went to Buckingham's. Buckingham's is my favorite bbq in town, and I hadn't been to the southside one in like two years. I like it better than the new northside one, even though the new one is confusing and always hilarious to eat at. In between McDonald's and Buckingham's I heard Fat Boys on the radio and got really happy. I always forget about Fat Boys but maybe if I make them the official soundtrack of this blog I'll never forget about them again.
Ty -- July 30, 2008

The last few times I've been to Sonic their slush machine has been broken, it sucks, how am I supposed to stop drinking soda all the time if everyone keeps FORCING me to.
I grilled chicken for lunch again today and did a better job this time. Also I grilled some eggplant. It seems likely that it was the first time I had ever purposely eaten eggplant. It tasted about like I thought it would, sort of boring and squashy, but I loved what the inside of it was like. You know all those books where people go to other planets and they find gigantic forests of vegetables and the vegetables are sort of alive? The inside of an eggplant feels exactly like those do! Why is it called eggplant and why is it so purple.

Ty -- July 29, 2008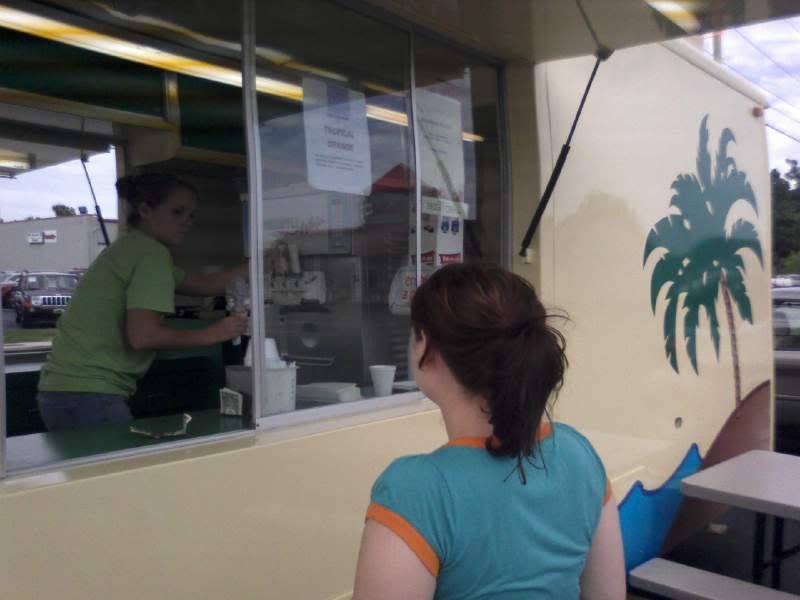 For three days in a row my lunch was a junior bacon cheeseburger with no lettuce or tomato, nine chicken nuggets and a huge Coke from Wendy's. The drive-thru at the Wendy's on Sunshine is the fastest drive-thru in the state. Normally my rule is to eat at home if I'm eating by myself but it looks like I'm just ignoring that rule this week. I tried to grill some chicken for lunch but it didn't turn out too great. The main problem might have been that it was really cheap and frozen, it sucks that decent meat is so much more expensive than crappy meat - twelve bucks for a couple free-range chicken breasts!! - but maybe I'm not looking in the right places.

This afternoon I went to Pineapple Whip with Katie. So far this summer I have had pineapple whip, grape whip, orange whip, and pineapple-grape whip; still need to get orange-pineapple and orange-grape.
Ty -- July 28, 2008